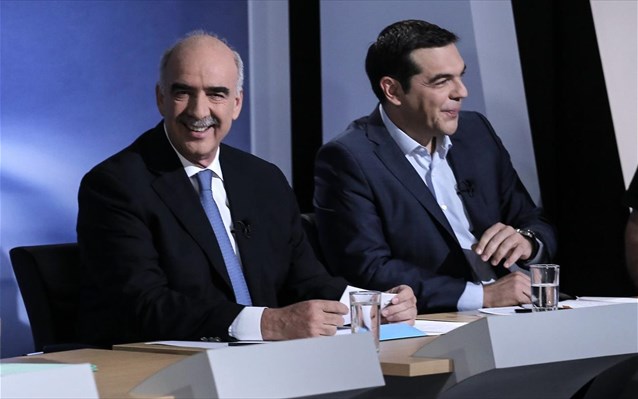 Athens, September 14 2015/ Independent Balkan News Agency
By Zacharias Petrou
The Greek pre-election period nears its end with less than a week to go before the September 20 election and the two frontrunners, Syriza leader Alexis Tsipras and New Democracy chairman Vangelis Meimarakis prepare for a tough run-in.
Tsipras and Meimarakis will go head to head in a televised debate on Monday night which may prove crucial before Sunday's vote.
Syriza and New Democracy are neck and neck in opinion polls with a great number of voters still having doubts about who to vote for, or whether to turn up at all. Greeks are disillusioned following the U-turn made by former PM Alexis Tsipras; initially a radical left-wing leader against austerity before agreeing a multi-billion austerity package to rescue the Greek economy.
Based on latest opinion polls, it is considered certain that no party will win an outright majority. Therefore, a coalition involving at least two parties and possibly even three parties (depending on the total number of parties that enter Parliament) will be required in order for a government to be formed.
Latest polls put the undecided voters at between 8 and 17.5 percent. However, most of the undecided voted for Syriza in the previous election, therefore, they are more likely to opt for Tsipras again at the last minute.
An interesting finding in almost all the opinion polls is that Meimarakis is surging ahead of Tsipras in popularity. If he can score points over him in the televised debate between the two on Monday (Sep 14) it may prove crucial in the final result.
Also, about a third of the respondents in polls would prefer a national unity coalition government taking over after the election.
European pressure has been growing for the next government to enjoy the broadest possible legitimacy. Eurozone officials rule out any possibility of changes to the memorandum of understanding that accompanies the new bailout deal and have openly stressed that implementation of the agreement must be swift.
"I think it's important in Greece that the preparations continue while the political situation is of course unclear at the moment," Djisselbloem said last week.
"The work needs to continue as much as possible. And the same would go for the institutions: they can prepare the review and work on defining the milestones for the coming months," he said.
New Democracy leader Evangelos Meimarakis said on Sunday that he has every intention of being prime minister should his party win the September 20 election.
In a press conference at the Thessaloniki International Fair, Meimarakis said that if New Democracy wins first place, he would invite SYRIZA and Alexis Tsipras to discuss forming a coalition government.
However, the Syriza leader was quick to rule out the idea of cooperating with the conservatives. Asked about the possibility of collaborating with New Democracy in a coalition government, Alexis Tsipras said that the two parties would be unable to agree on policy and represented very different social interests.