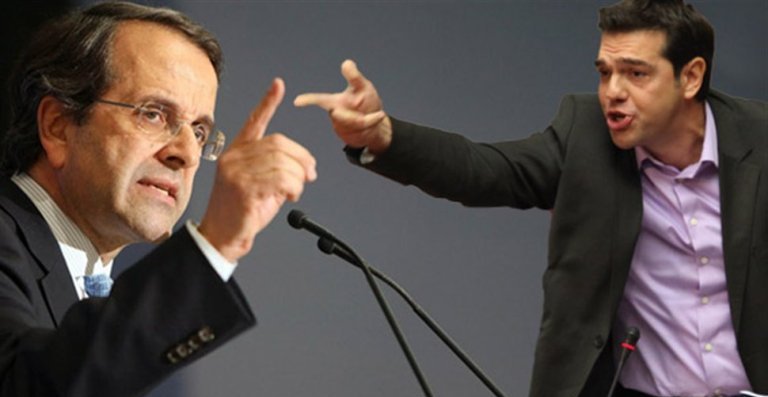 By Lefteris Yallouros – Athens
Greek Prime Minister Antonis Samaras and main opposition leader Alexis Tsipras have two high profile meetings coming up; albeit very different in nature.
Antonis Samaras will travel to Berlin on Tuesday September 23rd to meet with German Chancellor Angela Merkel. Alexis Tsipras will meet Pope Francis on Thursday at the Vatican.
The main opposition leader will seek to broaden his appeal and appear as a major European leader of the left. SYRIZA was quick to point out ahead of the meeting that the Pope meets with a left-wing European leader for the first time.
Social justice, unemployment, immigration and the Middle East crisis will be on the agenda as Tsipras attempts to send a message that sweeping changes in the European economy are needed in order to address the issues of the people.
Meanwhile, the PM will be visiting Angela Merkel in the German capital for the second time in almost 10 months. German deputy government spokesperson Christiane Wirtz announced the visit, saying that Samaras and Merkel will discuss the situation in Greece and European policy issues.
However, this meeting could prove crucial to developments in the economy which in turn may determine whether or not Greece will go to an early general election or not.
The Prime Minister will discuss the progress of the adjustment program as a troika audit is currently ongoing. It is considered certain he will seek assurances from the German Chancellor that he could fight off demands by the troika for further pension and labor reforms and provide significant tax relief imminently.
Furthermore, Samaras will seek public backing from Merkel as well as a clear indication that negotiations on significant debt relief on Greece's debt will begin next month.
Depending on the outcome of talks in Berlin and how the troika review unfolds, the search for the 180 MPs needed for Parliament to elect a President of the Republic could be made easier for the coalition government or even harder, making a general election inevitable.