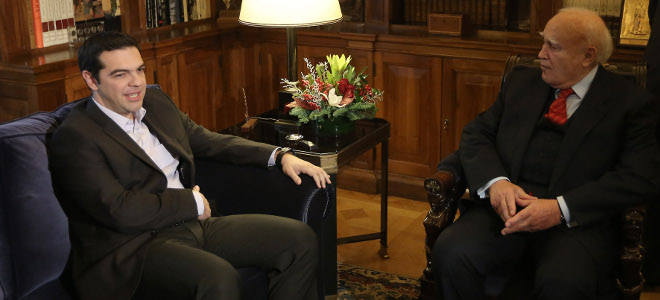 By Spiros Sideris – Athens
Leader of the main opposition, Alexis Tsipras, will visit the Presidential Palace at the beginning of next week, aiming to bring new pressure for a referendum on "Small PPC".
The meeting with the President of the Greek Republic, Karolos Papoulias, was the first and main part of a series of initiatives the president of SYRIZA is prepared to take on, with the slogan "we will exhaust all possibilities to keep the issue on the surface and denounce these practices".
Reportedly, Alexis Tsipras will raise an issue to the President of the Republic for the undemocratic way with which SYRIZA believes the government functions. More specifically, he plans to cauterize the government's refusal to open the plenary and will speak of a violation of the Constitution.
At the same time, Tsipras is preparing for the next "battle", with SYRIZA planning to open a new front regarding the bill for the privatization of the country's beaches.
In any case, the basic political conclusion in Koumoundourou regarding 'Small PPC" is that the party's initiative for a referendum deregulated the government and managed to create an "agenda", while it had a great response from society, paving the way for the party's future actions.