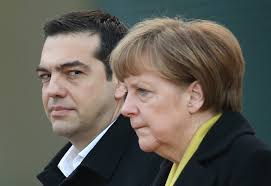 The Greek government is content over the results of the EU summit on December 15. The eyes are now turned to the meeting of Prime Minister Alexis Tsipras with German Chancellor Angela Merkel on Friday.
The prime minister is expected to raise the issue of the impact of the relief measures he announced for low pensioners and the habitats of the Aegean islands hit by the refugee crisis. "The misunderstanding must be solved," Tsipras will tell Merkel and he will stress that the economic programme will not be at risk by the measures announced. The Greek prime minister will underline the consistency of the country and will ask the other side to also show consistency on the issue of the debt relief.
Tsipras will explain that the current situation does not leave room for experiments: the war at Syria, the Cyprus issue, the European economy that has not yet stabilised and the imminent elections in many European countries (Germany, France, Holland). Therefore, the Greek programme review must be concluded now, Tsipras will stress.
Greek welfare measures don't affect fiscal outcomes in 2017-2018 but raise 'concerns,' institutions say
A preliminary assessment of the low-income pensioners' bonus and VAT cuts announced by the Greek government indicated that fiscal outcomes in 2017 and 2018 would not be affected but raised concerns about the country's commitments under the bailout programme, a spokesman for the European Stability Mechanism (ESM) indicated on Thursday.
"While those measures reduce the safety margin around the 2016 fiscal target, they are not expected to change significantly the projected fiscal outcomes in 2017 and 2018, although they raise risks regarding the targets, should the measures be extended in the future," he said.
"According to a preliminary assessment by the institutions, that was distributed to the ESM members today, the proposed measures by the Greek government raise significant concerns on both process and substance as regards MoU commitments, especially regarding pensions," the spokesman said, presenting an assessment of the economic impact of the measures carried out by the four institutions representing Greece's lenders – the  European Commission, the European Central Bank, the ESM and the International Monetary Fund (IMF).
Greece's parliament approved the proposed one-off benefit to pensioners by 196 votes on Thursday but the country's creditors on Wednesday announced their decision to suspend implementation of the short-term debt relief measures for Greece agreed at the Eurogroup on December 5, in response to the announcement of the measures./ΙΒΝΑ