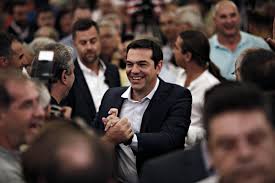 The Greek government has launched a counterattack and is using the regional visits undertaken by the Greek Prime Minister and Cabinet members as the spearhead.
According to Athens News Agency (ANA) information, the Greek Prime Minister is planning several visits to various regions of the country in January.
Just yesterday and today fifteen members of the Cabinet were found in the province, while the program for the next ministerial visits is being drawn up.
One issue that concerns the Maximus Mansion is the situation in the rural areas and for this reason, they planned informative workshops and excursions to the countryside in January.
According to information obtained by ANA, in the first 10 days of January the Education Minister Costas Gavroglou will visit Corfu, Deputy Foreign Minister George Katrougalos Messinia, Justice Minister Stavros Kontonis Zakynthos, the Minister and Deputy Minister OF Marine and Island Policy, Panagiotis Kouroumblis Nektarios Santorinios the Dodecanese and State Minister Christopher Vernardakis Arcadia.
According to messages being received at the Maximus Mansion, a common feature of all the visits was the great participation of citizens as well as the positive handling of announcements and information by government officials.
It is worth mentioning that State Minister and government spokesman Dimitris Tzanakopoulos spoke from Corinth about "a series of initiatives undertaken by the government for a large opening in society."
The announcements he made concerning Public Health left citizens satisfied (since the government is covering part of the gaps created during the first years of the crisis), while the cooperation he had with local and regional actors, regardless of political party affiliations was excellent.
According to government sources the political counterattack by the government seems to have caused a reversal of the trend that earlier polls of public opinion had recorded, as is evident from recent data currently in the hands of the Maximus Mansion.
The Greek Prime Minister's announcements to low -income pensioners and to residents of the Aegean islands seem to have contributed to this result, as well as his visits throughout the country, state the same sources./IBNA