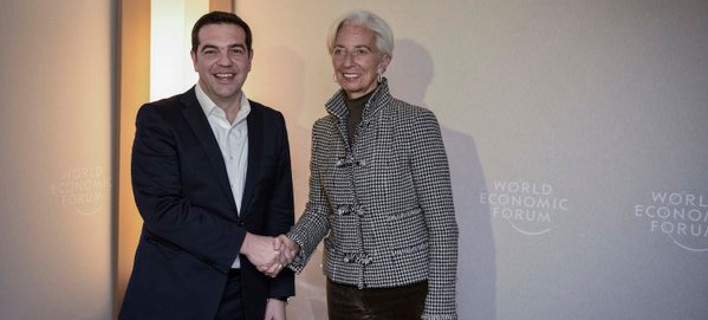 Athens, January 22, 2016/Independent Balkan News Agency
By Spiros Sideris
One hour lasted the meeting between Tsipras and Lagarde in Davos, which at first started with delegations of the two sides being present and was concluded with a tete a tete. Alexis Tsipras' assistants spoke of an "honest discussion" on the course of the greek programme.
"We need to complete the review, time is pressing, it is crucial for the completion of the programme", Alexis Tsipras said to Christine Lagarde during the meeting in Davos.
At the same time he stressed the need for a radical reform of the social security system.
The IMF chief reportedly agreed that there should be no further delays and told the Greek Prime Minister that from now on they must have a direct communication.
"Delays are not the aim of the Fund", Lagarde told Alexis Tsipras, who expressed his complaints to the head of the IMF: "Leaks do not help, they must stop", he said according to his assistants, referring to press reports according to which the Fund commented on the proposal for the social security with the phrase "we asked for a cow and they sent us a cat".
Lagarde's side however, argued that there wasn't such a leak.
The head of the IMF also expressed an interested for the fate of the infamous list that bears her name.
Alexis Tsipras said that for the first time there is a political will to investigate these cases and not bury them as in the recent past, when the persons on the list used to enjoy political protection at the highest level and to whom now have been issued very high fines.
Finally, the Prime Minister informed that the government expects to receive a significant part of the amount that is being sitting in deposits abroad with the bill of the process of "reporting oneself".