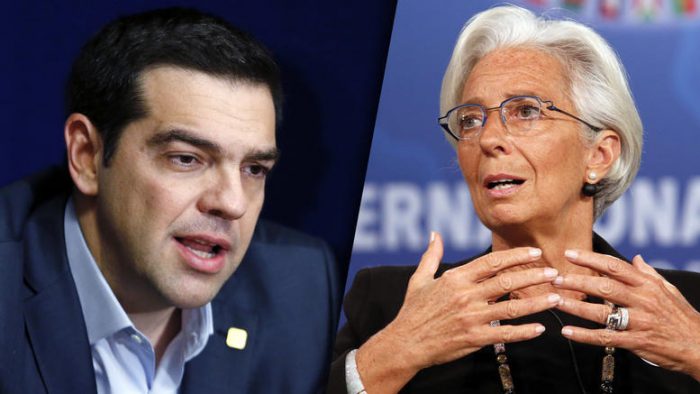 Prime Minister Alexis Tsipras held a fruitful meeting with the Managing Director of the International Monetary Fund (IMF) in Washington on Monday. Both sides appeared to be in agreement that the third review of the Greek bailout program must be concluded swiftly in order to allow the Greek economy to continue to grow.
At the conclusion of the meeting which she described as excellent and productive, the Managing Director acknowledged that Greece has achieved notable progress in the implementation of difficult policies, including recent pension and income tax reforms.
Lagarde urged the Greek government to continue on the path of agreed reforms. "Resolute implementation of this programme, together with an agreement with Greece's European partners on debt relief, are essential to support Greece's return to sustainable growth and a successful exit from official financing next year", Lagarde characteristically stated, adding that the Greek "Prime Minister and I are committed to working together towards this goal."
On his part, ahead of meeting with US President Donald Trump

on Tuesday

, Alexis Tsipras reassured Lagarde that he is committed to concluding negotiations over the third review by the end of the year. The Greek premier also expressed confidence that the IMF will play a positive role in Greece's quest for debt relief.
"Everyone knows there were delays in the past, and everyone knows that this happened because there were disagreements between the institutions" Tsipras said, adding that he believed these differences will be put aside and "everyone desires the conclusion of the review as soon as possible".
A total of 95 prior actions need to be completed by the end of the year, so that the review can be successfully concluded. So far, just a quarter of the so called prior actions have been implemented, with Athens aiming to carry out more than half by the end of October. The mission heads of Greece's creditor institutions are expected in Athens by

October 23

to begin direct talks with the government.
Meanwhile, figures released by the Greek Finance Ministry on Monday showed a fiscal gap widening by around 2.4 billion euros as higher tax rebates in the January – September period threatened to throw the budget off track…/IBNA