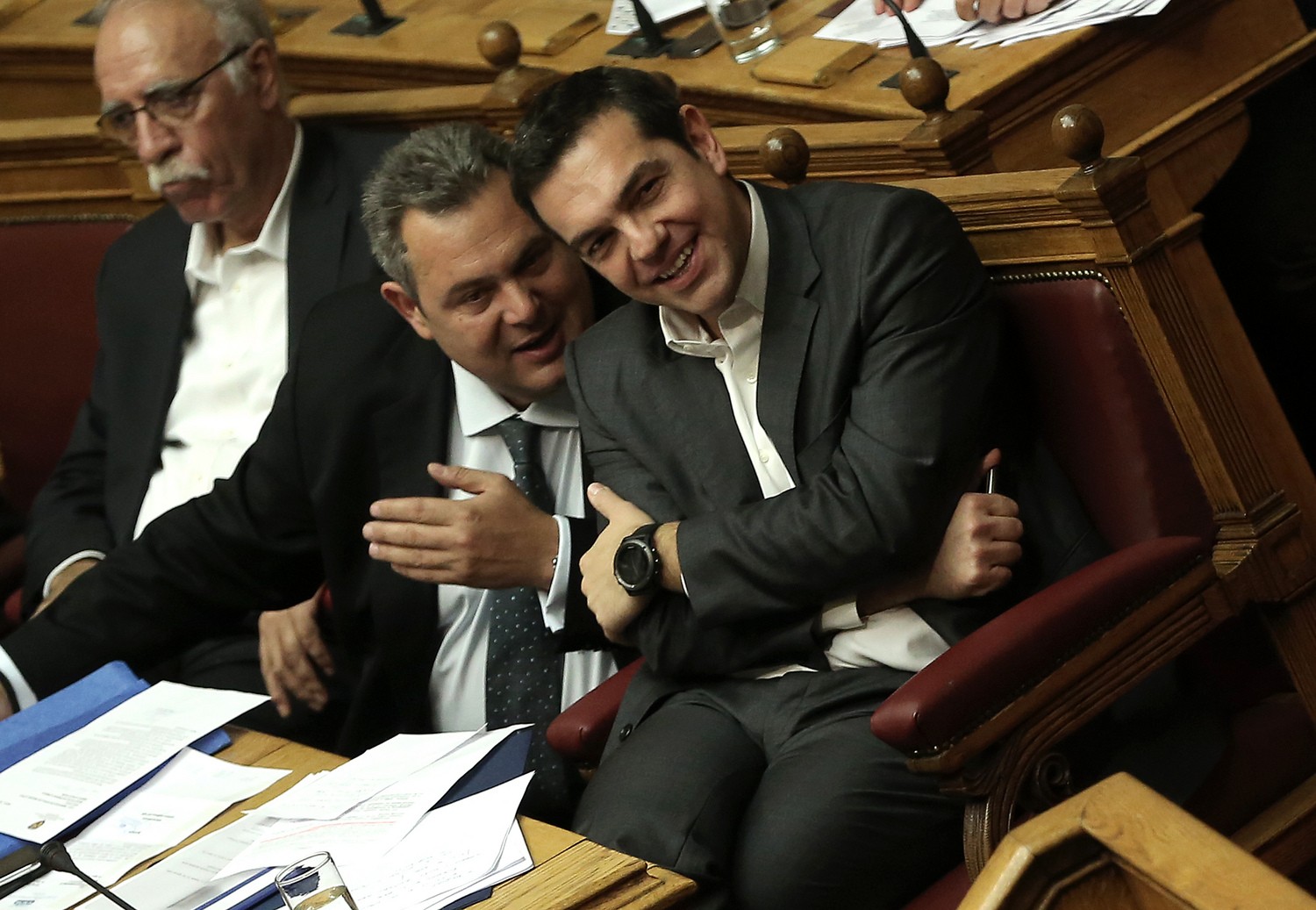 Ahead of an important NATO Summit this week during which the former Yugoslav Republic of Macedonia could be invited to join the Organization, the Greek coalition government continues to be tested by the name-change deal agreed with the neighboring country.
The two coalition partners, leftist SYRIZA and nationalist Independent Greeks, continue together in power despite complete disagreement over the deal which grants fYROMacedonia use of the term "Macedonia" in its official name.

The concern for Greek Prime Minister, Alexis Tsipras is that his coalition partner, Panos Kammenos, can bring down the government at any moment over the deal. Officially, Kammenos has vowed to see out the four-year term, but is keeping his options open for when the name-change deal comes to parliament for ratification.

Local media reports suggest that the keen to maintain the political initiative PM has already started to explore his options with regard to the timing of the next election.

According to analysts, the prevalent scenario as things stand is one which would see the Prime Minister attempt to see out his 4-year term, before calling an election close to May 2019. Considering that the fYROMacedonia name-change agreement is likely to come to parliament for ratification after January 2019, elections could be called early February.

This would allow Tsipras use available fiscal space to convince voters to back him in the runup to an election. It would also allow him to call on the opposition to make post-election intentions about the fYROMacedonia agreement clear.

Another scenario involves calling an election before the end of 2018. This will depend on the stance of Panos Kammenos and the state of the economy following the conclusion of the ongoing bailout program in late August. If the government sees that fiscal targets are in danger of not being met in the second half of 2018, it could force Tsipras' hand to call an early election in the autumn of 2018.

Developments, however, should not be expected before the end of the bailout program on

20 August

and the official line is that the government will complete its full term in office.

Tsipras, meanwhile, is also considered to be contemplating a cabinet reshuffle ahead of the next election, with a view to boost chances of re-election and put out crucial messages to cadres regarding the future leadership of SYRIZA in the event that the party isn't returned to power.

Sunday

newspaper Documento published an opinion poll by Vox Pop Analysis, which put New Democracy 4.6 percentage points ahead of ruling SYRIZA.

Specifically, in the Vox Pop survey, New Democracy came in at 28.4% with SYRIZA on 23.8%, followed by Golden Dawn on 8.5%, the Movement for Change on 7.4% and the Communist Party on 5.8%. The Union of Centrists (2.2%) and Independent Greeks (1.1) fell below the 3% threshold for entry to parliament.

A "poll of polls" pooling together surveys conducted by Alco, Pulse, Metron Analysis, MRB and Marc showed New Democracy leading SYRIZA by 13.4 percentage points, putting the party closer to forming a stand-alone government…. / IBNA