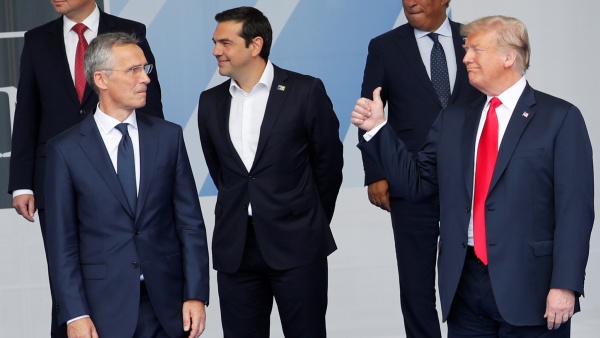 The first day of the NATO Summit in Brussels ended with a working dinner late in the evening. Speaking to the rest of the attendees, the Greek Prime Minister stressed the need to step up efforts to solve international disputes and promote global peace and stability.
Alexis Tsipras noted that Greece supports every effort in this direction, therefore we welcome the U.S. initiatives with North Korea for a denuclearisation agreement in the Korean Peninsula and for dialogue with Russia. Only in this context we can promote the denuclearisation at world level and the control of conventional equipment, a new security architecture with Russia, and effective resolution of regional conflicts. Obviously, we are not talking about being safe, as we have also encountered difficulties today with certain interference with our internal matters, and we consider it essential that the Minsk Agreement be implemented by everyone. But our position in favour of intensifying the dialogue with Russia and the upgrading of the NATO-Russia Council is and will remain unchanged.
Then the Greek Prime Minister stressed that it is time for brave decisions at international and regional levels that will ensure peace, stability and progress. Greece is a country that, despite the enormous difficulties, is struggling to resolve differences and stability in its wider region. By maintaining the dialogue with Turkey, despite all difficulties, while at the same time promoting the solution of the name issue and actively supporting the European perspective of the countries of the Western Balkans.
NATO can proceed only on the basis of mutual respect among its members, and this means respect for international law and fair burden sharing. But even there we are talking about the safe ones, because despite the budgetary constraints we are one of the few who keep our commitments to NATO, the Greek Prime Minister concluded in his speech during the dinner.
The NATO Summit will be completed on Thursday and at 14:30 local time (Brussels time) Alexis Tsipras will meet with the Turkish president, Recep Tayyip Erdogan…. / IBNA