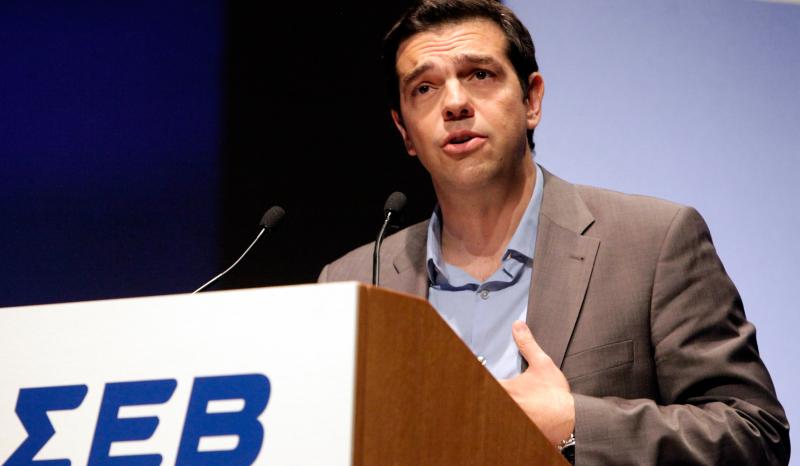 By Lefteris Yallouros – Athens
Theodoros Fessas officially took over from Dimitris Daskalopoulos as Chairman of the Hellenic Federation of Enterprises (SEV) during a General Assembly held Wednesday which was addressed, amongst others, by Prime Minister Antonis Samaras, Finance Minister Yannis Stournaras and head of main opposition SYRIZA, Alexis Tsipras.
Fessas – who is the Chairman and Managing Director of Info-Quest and has been Director of the Hellenic Federation of Enterprises since 2000 – told the General Assembly that Greek enterprises should become more proactive in providing solutions rather than simply describing problems. He also stressed the need for cooperation, mergers, networking and investments on a larger scale in order for Greek industry to offer the utmost to the economy in such testing times.
Outgoing Chairman, D. Daskalopoulos, who was made honorary Chairman, commented on the outcome of last week's European elections, pointing out Greek citizens made clear they demand a radical change and can take no more austerity. However, citizens need a specific alternative solution in which they can believe in order for them to be mobilized, he added.
A little while later, Alexis Tsipras took to the stand and reiterated his party's call for an early general election. He went on to say the government lacked the legitimacy to decide on the future of Greek citizens by implementing its austerity policies, as outlined in the memorandum with Greece's international lenders.
Addressing the annual conference of the Hellenic Federation of Enterprises (SEV), Alexis Tsipras said it was his hope that his party could "develop a functional institutional relationship with your association".
He said that for his party, growth was more than just a positive number but involved a mix of a complex of policies and interventions that catered for people and their needs.
The main opposition leader also said, for the second time this week, that the government can't dismiss his party's considerations when it comes to appointing a new Central Bank Governor or EU Commissioner. Alexis Tsipras went on to make a series of policy proposals including bringing the minimum wage back to EUR 752, helping weaker members of society, renegotiating bad loans of households and businesses and lowering energy costs for industry.
Addressing the Assembly on Wednesday afternoon, Prime Minister Antonis Samaras turned down Tsipras's call for an early election and criticized the main opposition party of showing the arrogance that comes with power, without ever having come to power.
The PM also called on major Greek businesses to take a leading role in the "new Greece" his government is building.