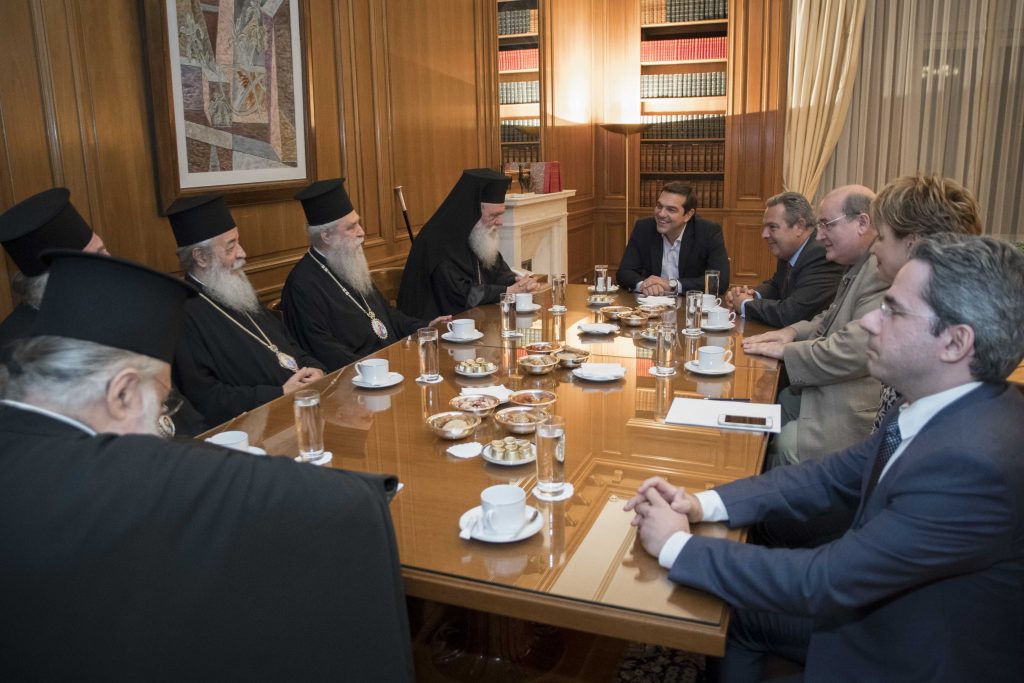 Athens, October 6, 2016/ Independent Balkan News Agency
By Zacharias Petrou
The government managed to settle differences with the Greek Orthodox Church on Wednesday that had caused a crisis in the relations of the two institutions.
Prime Minister Alexis Tsipras met with Archbishop Ieronymos to discuss how religious studies will be taught in school and a new curriculum for the subject. The meeting was held following a request by the Archbishop and was attended also by Defense Minister Panos Kammenos, Education Minister Nikos Filis and government spokeswoman Olga Gerovasili.
A plan for changes to religious education introduced by Education Minister Nikos Filis had caused a rift in the government's relations with the church. Earlier, Ieronymos had turned down talks with Nikos Filis on the issue.
The ministry's plans to scrap the catechistic character of religious classes, teaching them instead on purely informative and educational grounds, were put on hold by the government following Wednesday's meeting.
After meeting with Tsipras, Ieronymos said said 'misunderstandings' between the Church and the government had been resolved.
"We had a meeting, we spoke, we resolved all the misunderstandings and the dialog on religious studies will continue with the Church's cooperation," the Archbishop stated.
The government commited to not making any changes to the current curriculum until talks with the Church have been completed. Decisions should be expected towards the end of the year.
Defense Minister Panos Kammenos, who had held a seperate meeting with the Archbishop recently, said he was "very pleased" and that there was "very fruitful dialogue" between the two sides. "The Church and the State continue united in the context of dialogue and Orthodoxy" he added.
Education Minister Nikos Filis said talks would continue and that the government is "not dogmatic". He added that the climate in the discussion with the Archbishop was "very good".
According to political analysts, the government has manouevred to avoid a clash with the Church at a critical point for the Tsipras administration with tough talks coming up with creditors and approval ratings in recent polls worsening.
It is also noted that the U-turn placed the Education Minister in a difficult position and he may be amongst ministers to exit the government as soon as the PM decided to reshuffle the cabinet.
Photos:  PM press office / Andrea Bonetti