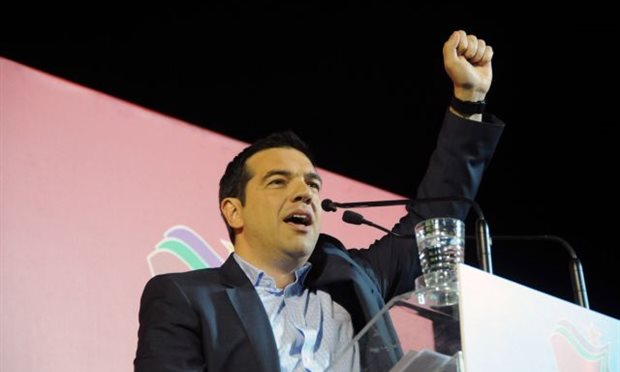 Review Hari Stefanatos
A debate took place yesterday evening in Brussels for the presidency of the European Commission between the SYRIZA and the European Left candidate Alexis Tsipras debating with European Peoples' Party Jean-Claude Juncker, the Progressive Alliance of Socialist & Democrats Martin Schulz, the Alliance of Liberal and Democrats Guy Verhofstadt and the Greens-EFA's Ska Keller.
Mr. Tsipras at the start of his speech urged the voters to place they support on the Left party in order to put an end to austerity and create a European Union based on its founding democratic values. He also attacked the current policies, which he said are responsible for the ravaging unemployment, especially in young people. "We need to end austerity and regain democracy", he said calling for "a European debt conference like the one for Germany in 1953" to address the dept problem.
In regard to the Ukrainian crisis the Greek politician asked from the European citizens to support the Ukrainian people to decide their own future, and reject the  "neo-Nazi government". He also stood against any military interventions be it from NATO or Russia, but instead called for a talk process under the OSCE.
The SYRIZA leader reported that the European Left respects the right of self-determination and that conflict amongst people and nations cannot yield positive results. He also expressed his opinion that a respect for international law is also very important. Finally,  Mr. Tsipras favored granting greater autonomy the Catalonia within the framework of a federal community, similar to Ukraine.  
The Greek candidate's position on EU's immigration policies was that they are ineffective and that a major overhaul of political asylum policy is necessary, while at the same time calling for an increase in funding and a "fairer sharing" of responsibility. He also warned of the dangers from the wave of conservatism and anachronistic beliefs sweeping across Europe.
The role of banks in the creation and course of the crisis became the topic of an argument between the ALDE candidate Guy Verhofstadt and Alexis Tsipras. Mr. Verhofstadt attributed the crisis in Greece to the bad choices made by New Democracy and PASOK, which were funded (along with SYRIZA) by state-run banks. Mr. Tsipras position was that while the state-run banks and public sector played a role in the development of the crisis, the role of private banks cannot be ignored, using the Ireland as an example.
For their closing statements, the candidates offered their vision, with Mr. Tsipras calling for a Europe with more democracy, solidarity and social cohesion, with a greater participation from the people. Mr. Tsipras repeated his intention to get rid of the troika (or "catastroika", as he quipped).
(Source: Tovima)