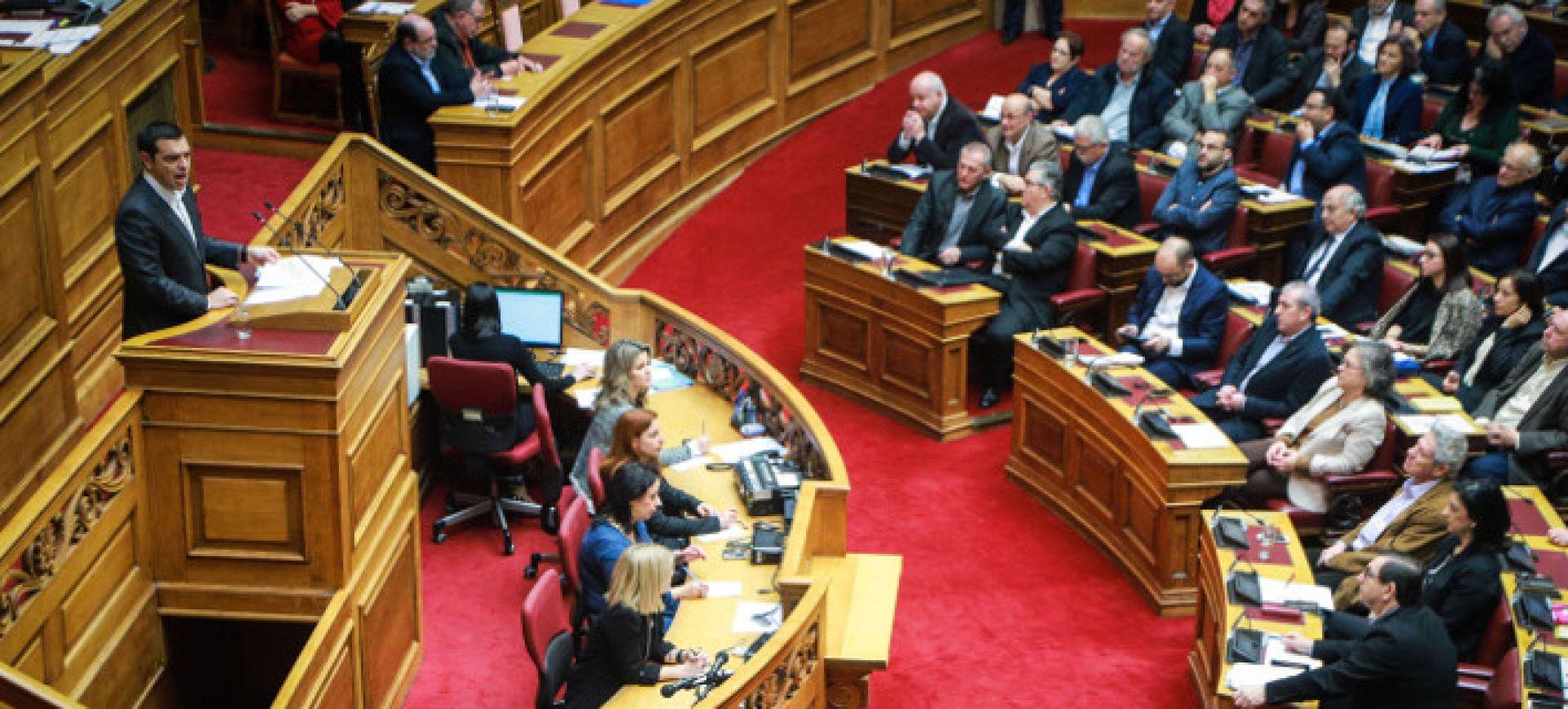 With 153 "yes", the Greek parliament voted for the accession of North Macedonia to NATO, after a meeting that was marked by the confrontation of Alexis Tsipras with Kyriakos Mitsotakis and the final unraveling of the parliamentary group of ANEL.
In particular, the admission protocol was approved by the majority that had been formed in the Prespa Agreement, both with the votes of To Potami MPs and the independent MP, former of the parliamentary group of  Democratic Coalition, Thanasis Theoharopoulos.
"I welcome as of tomorrow, North Macedonia, a friend country", Alexis Tsipras said, declaring his pride for the MPs who voted for the Prespa Agreement, because they did the right thing, as he said.
Mitsotakis: I maintain the "veto" for the EU membership
Kyriakos Mitsotakis reiterated his accusations to the government that they "surrendered the Macedonian language and ethnicity" and stressed that he would never welcome the "Macedonian Prime Minister" in Greece, but would refer to him as "Skopjian". This statement was in line with that of his vice-president, Adonis Georgiadis, who has declared he does not recognize "North Macedonia". At the same time, he reiterated that he maintains his position to "veto" the accession of North Macedonia to the European Union.
Tsipras accuses MItsitakis of an irresponsible and nationally dangerous attitude
The Greek Prime Minister, who defended the choice for the ratification of the Prespa Agreement and the European perspective of North Macedonia, as well as European enlargement in the Balkans, spoke of "an irresponsible and nationally dangerous position by ND in national affairs".
He even pointed out that if Mr Mitsotakis supports the veto on the enlargement of the European Union in the Balkans, he does not only question a standing national position, but also a long-time European position. At the same time, he invited the head of the ND to deny or apologize publicly for the publication, in which he appears to have said at his meeting with Chancellor Merkel that he would not allow "Northern Greece becoming Catalonia". Until today Kyriakos Mitsotakis has not denied raising an issue of secessionist tendencies through this publication.
Kammenos' ANEL parliamentary group unravels
Earlier, there was a battle of words between Alexis Tsipras and Panos Kammenos, with the prime minister accusing the former government partner of having been working on a plan to overthrow the government, on the occasion of the Prespa Agreement. On his part, the leader of ANEL called the Prime Minister a "Cold Executioner".
At the same time, Panos Kammenos decided to cross off the MP Papachristopoulos, who supported the Prespa Agreement, who then handed over his seat. His seat is taken over by Deputy Foreign Minister Terence Quick, who had been crossed off from ANEL last month. Thus, the Parliamentary Group of Panos Kammenos numbers 4 MPs and therefore loses its rights./IBNA