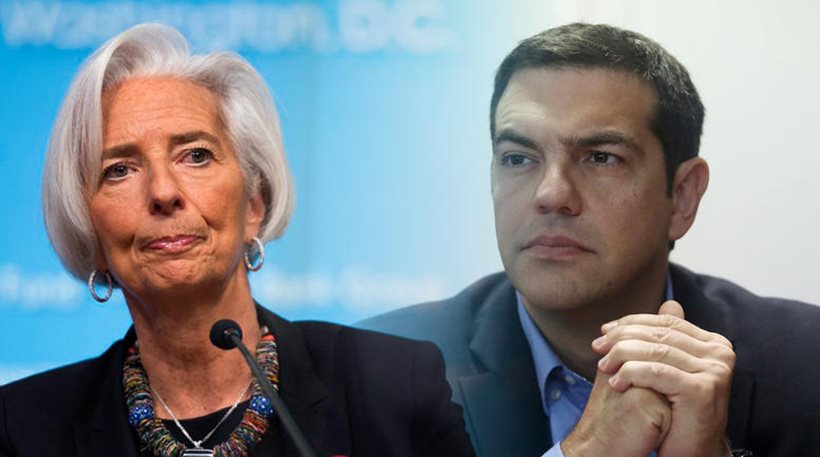 Greek Prime Minister Alexis Tsipras held a conversation over the telephone with IMF Managing Director Christine Lagarde, on the eve of the latter's meeting with the German Chancellor in Berlin.
In their telephone conversation, according to government sources, they discussed that Greece has taken steps in changing the financial mixture the IMF requests for the post-program period. Also, on its part, the IMF made steps with respect to the zero financial impact the measures will have.
It is noted that in this acceptance of the central position of the Greek government, Athens bases its insistence that "for every euro citizens will be burdened, there will be one euro in relief". In the same context, the statement of European Financial Affairs Commissioner Pierre Moscovici is highlighted: "the Eurogroup allowed the return of institutions to Athens very soon so that we can create a balanced package".
According to government sources, Mr. Tsipras and Mrs. Lagarde also discussed that it is now the turn of Germany to make clear steps with respect to primary surpluses after the end of the program and the issue of Greek debt relief.
On the issue of debt relief, the IMF insists that debt relief measures should be pre-determined even if these are implemented later. It is noted in this regard that in statements today, IMF spokesman Gerry Rice underlined that prior commitment to and specification of the debt relief measures – even if they apply later – is a prerequisite for the participation of the Fund in the program.
It is noted that information regarding yesterday's meeting suggested Mrs. Merkel proposed that Greek debt relief is granted in two stages, so that both the IMF and German political considerations are served ahead of elections in September. In this scenario, the IMF will maintain its enhanced role in the review of the Greek program until the German election, without progressing to full participation yet, having however the jurisdiction to seek and enforce measures that are compatible with the program the Fund wants to establish with Greece./IBNA