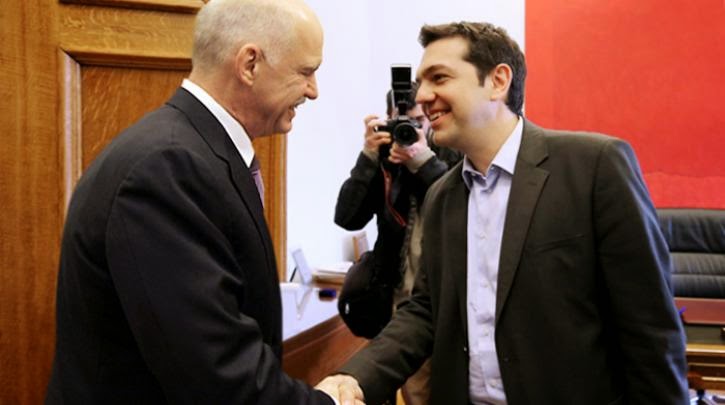 Athens, April 17, 2015/ Independent Balkan News Agency
By Zacharias Petrou
Prime Minister Alexis Tsipras received the leader of the Movement of Democrats Socialists George Papandreou on Thursday in a surprise meeting at the Maximos Mansion at the request of the former Prime Minister.
After the meeting Papandreou told reporters it is a patriotic duty for Greece to maintain its achievements and stay in the hard core of Europe. The former premier, now leader of the Socialist Democrat Movement also noted that Greece should not lose its membership in the Eurozone
Speaking to a local television channel last week Papandreou was openly supportive of Syriza while urging the government to work towards an "honest compromise" with the country's lenders and disregard political cost. He also stressed that the Greek people must be aware that a large part of SYRIZA's election pledges cannot be implemented.
Papandreou conceded that his only "mistake" while in government was not insisting on holding the referendum in 2011 when he was faced with the prospect of requesting assistance from the IMF. In his opinion, if the referendum was actually carried out, he would have the necessary popular mandate to carry out the changes and reforms that were required.
Analysts believe Thursday's meeting between Tsipras and Papandreou could be sign of political developments to come. Papandreou has hinted at a return to PASOK once the current leader Evangelos Venizelos steps down in the summer. In such an event, PASOK could be set for a sharp turn to the left which would suit Tsipras should he wish to bring reforms to parliament that are unpopular within his party.
It is also worth noting that Tsipras and Papandreou agreed to meet despite the parliamentary inquiry the former has ordered in order to identify who is politically responsible for Greece's debt woes and subsequent bailouts by the EU and IMF. The formation of such a committee was one of the party's pre-election pledges. The probe targets Papandreou's term as Prime Minister especially and leaves aside the Karamanlis administration. Many argue that Karamanlis's government played a major role in driving Greece into the Memorandum by allowing the debt to spiral.