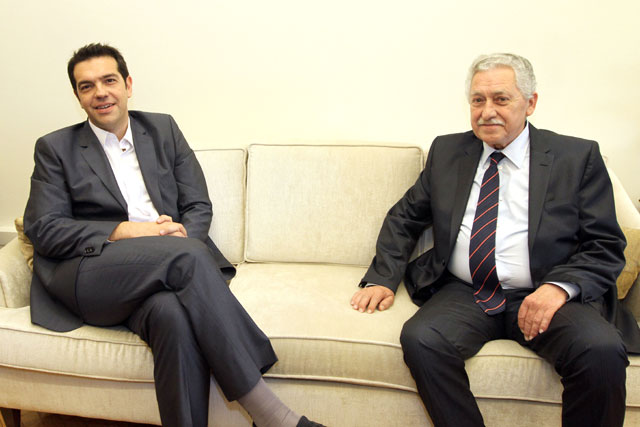 Athens, July 20, 2016/Independent Balkan News Agency
By Spiros Sideris
Successive meetings within the dialogue on the electoral law had on Tuesday noon Alexis Tsipras.
The Prime Minister met with the President of KIDISO Giorgos Papandreou, the president of the Unifying Movement of the European Left, Fotis Kouvelis, and with representatives of Ecologists-Greens.
Developments in Turkey were at the center of the short dialogue that had in front of the cameras the Prime Minister Alexis Tsipras and the former prime minister and president of the Democratic Socialist Movement, at the start of their meeting at the Maximos Mansion.
"We are speaking in difficult moments for the region", Papandreou said. "Turkey always had a great internal tension and we must be very careful", Tsipras responded.
"If we go to the logic of proportional representation the breaking down of the regions cannot but be a prerequisite", Papandreou underlined in his statements after the meeting with the Prime Minister at the Maximos Mansion. "For us what's at stake is a radical democratization of our country and Europe itself", he said.
Papandreou also said he suggested to the prime minister to "seriously consider an old proposal, a mixed single-seat system with regional lists, with meritocratic criteria set by the parties for the MPs they will elect, which will be proportionate in nature".
In the Prime Minister's meeting with the Ecologists Greens, discussion revolved around the new electoral law, the proposed changes to the Constitution, and the overall cooperation between the two parties. Tsipras has confirmed that the issues that have been left out, such as the breaking down of large Regions, the threshold and the Greeks abroad will stay open and possibly put back for discussion in the future, on the occasion of the debate on the Constitution.
"We are pleased for the advancements in the issue of proportional representation, since it is one of the points of cooperation with SYRIZA. We believe that such an important and progressive subject, although it would have needed more fermentation and preparation, must be passed by the House with an increased majority", said the spokesman of Ecologists Greens, Maria Peteinaki after the meeting.
Consistent with the government's proposal for changes in the electoral legislation appeared the President of the Unifying Movement of the European Left, Fotis Kouvelis.
Kouvelis stands in favour of the proportional representation and the direct election of the President by the people.
Welcoming Kouvelis at the Maximos Mansion, Tsipras commented that too much is happening at the same time, referring to developments in Turkey, "which is worrying and we must monitor it very closely", as well as the other negative developments in Europe, the Brexit, the terrorist attack in Nice.