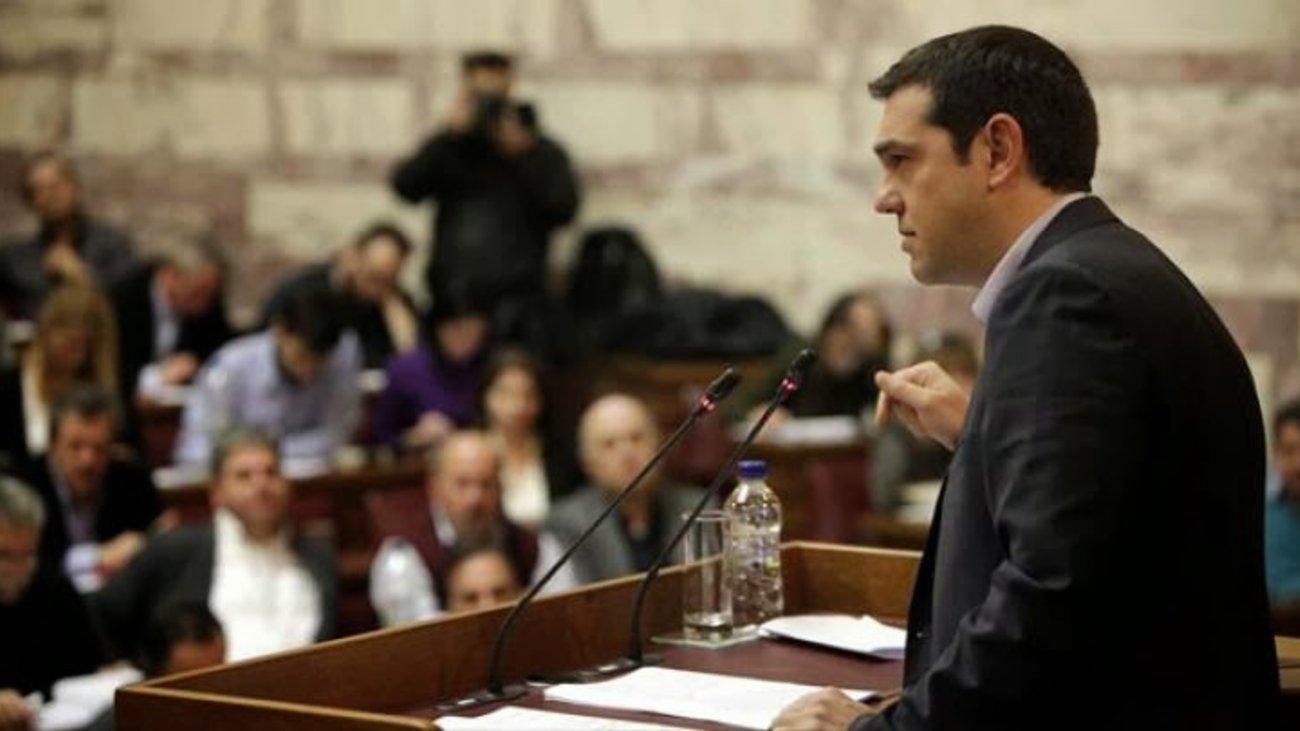 The Greek government's decision to proceed with an early repayment of the debt to the IMF has been implicitly confirmed by the Greek Prime Minister. Speaking in front of the SYRIZA parliamentary group, which convened today, Alexis Tsipras "inaugurated" the pre-election period, posing the dilemmas of the upcoming European elections as well as the national elections, which, as he reiterated, will be held in the autumn.
"The people will soon be called upon to choose whether the country will continue the road leading to social and economic reconstruction, or will choose another road that leads to the opposite current", said SYRIZA's head, stressing that "it may look like a crossroad, but one way goes straight and the other in a reversal, in the years of profound austerity and supervision, a return to the IMF years".
Tsipras: The IMF will leave Greece soon
In this context, Tsipras said Kyriakos Mitsotakis' pursuit was to implement a program similar to that of the IMF, as well as to keep the Fund in Greece. He added, however, that the government has a plan for the IMF to leave Greece, and "we will soon make it happen".
This statement is long the same lines with what IMF spokesman Jerry Rice said earlier that early repayment is something that Greece will decide, noting that this will not affect the post-memorandum supervision of Greece. Moreover, within the framework of the Fund's report, it is noted that Greece wishes to proceed with the early repayment of 60% of the total debt to the IMF.
Athens' intention was confirmed on Tuesday by Greece's representative on the Executive Board of the Fund. As noted by M. Psalidopoulos, Athens is examining the early repayment of part of IMF loans in order to further improve the Greek debt dynamics, considering that the country's successful access to the capital markets is proof that Greece has regained its credibility. It is noted that any decision will be taken in conjunction with the eurozone.
The left-center-left front is taking shape with the title "SYRIZA Progressive Alliance"
One day after the announcement of the first names on SYRIZA's ballots for the European elections, Tsipras put the party in full readiness, underlining the importance he gives to the May 26 election, estimating that SYRIZA will again emerge victorious. Setting the stakes, he stressed that the battle will be fought between the re-baptised Right of all forms on the one hand, with "ND being prominent", and on the other hand the Left of Collective Progress and Social Justice, the democratic and progressive alliance "which has a vision, and has a plan for the next day in Greece and Europe".
Within this framework, takes place today SYRIZA's first delegation meeting with the movements and the center-left executives who responded to the call for programmatic convergence. Indeed, the party of the Left will propose a common descent under the title "SYRIZA Progressive Alliance". The founding conference of this new political front is expected on March 27 in Athens./ibna