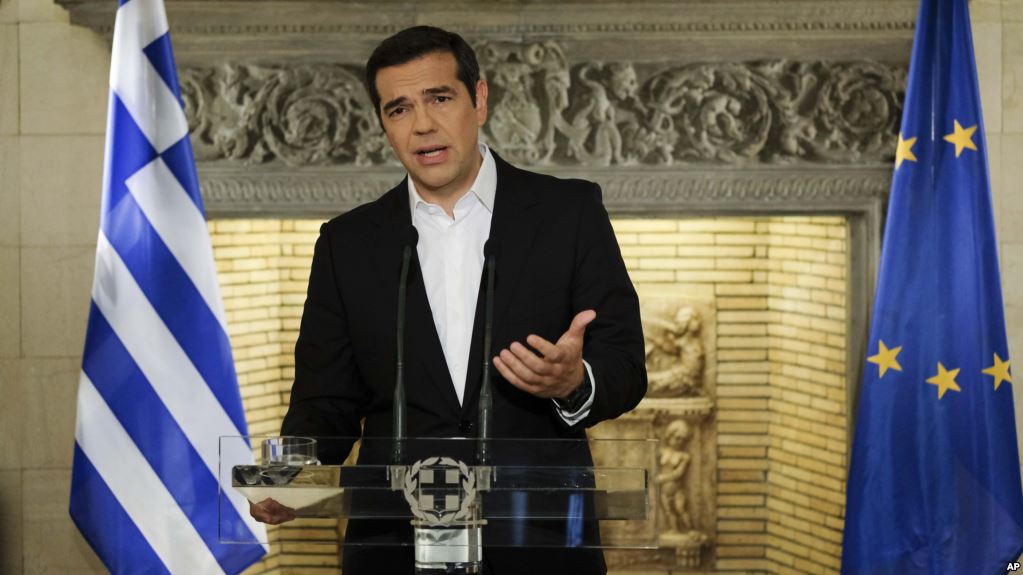 Having agreed a solution to the name dispute with his fYROMacedonian counterpart, Prime Minister Alexis Tsipras addressed the nation
on Tuesday
evening to present the details of the agreement reached with Skopje. Earlier, Tsipras had briefed the President of the Hellenic Republic and political party leaders on developments.
In his televised address to the nation, the Greek Prime Minister said a "historic agreement" which is "good for Greece" was reached with Skopje for the name of the neighboring country to be Northern Macedonia.

The agreement will first be signed by the Foreign Ministers of the two countries and put to a vote in the fYROMacedonian parliament. After this process, and once constitutional reform has been concluded in fYROMacedonia, the agreement will subsequently be put to Greek parliament.

According to Tsipras, if fYROMacedonia doesn't fully abide by the terms of the agreement, its invitation to begin talks for accession to NATO will be rescinded.

In what is seen as a diplomatic compromise, the agreement reached will apply erga omnes (universal use), while fYROMacedonia will amend its constitution in order to wipe out any signs of irredentism. Greece's neighbors will also agree to accept they have no relation to ancient Greek Macedonia and the relevant culture and language.

In exchange, Athens will recognize its northern neighbors as citizens of Northern Macedonia, recognizing their official national identity and language, while, crucially, paving the way for the country's accession to NATO and the European Union.

Tsipras went on to say that Greece's official position in the last 20 years was safeguarded throughout the process to reach an agreement with Skopje, while the government fully defended its red lines.

According to the Greek premier, a window of cooperation and friendship is now open, in a region that is troubled.
"All Greeks can be proud today for the fact that our history and culture are being safeguarded with this agreement" the PM said.

Tsipras and his fYROMacedonian counterpart Zoran Zaev are expected to hold bilateral talks

on Saturday

, to take the agreement reached further forward.

Meanwhile, main opposition New Democracy party leader Kyriakos Mitsotakis responded to the announcement of the agreement via a recorded message, in which he said the Prime Minister lacks the political legitimacy to commit the country to an agreement which doesn't even enjoy the support of his own government.

Mitsotakis flatly ruled out backing the deal, which he called a "bad agreement", and urged the Prime Minister not to sign it.

According to the main opposition party leader, "the acceptance by the Greek government of the existence of a Macedonian language and nationality constitute a national retreat".

Mitsotakis accused Prime Minister Tsipras of negotiating in secret with Skopje for six months, while blatantly ignoring the will of the Greek people and the country's opposition parties entirely.

He went on to call the agreement "unprecedented" and "an insult to the parliamentary system", before adding that he will immediately inform the President of the Hellenic Republic of his party's view of the agreement struck by the government…. / IBNA