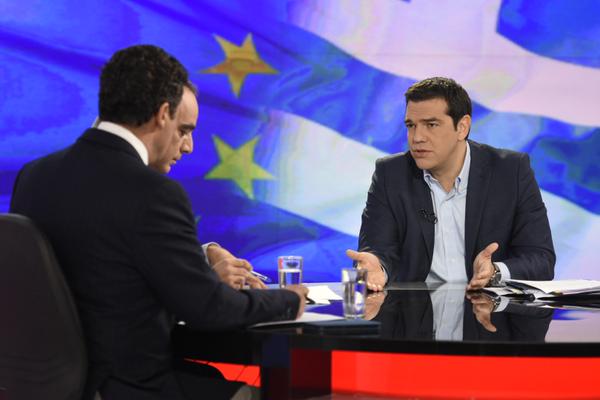 Athens, July 15, 2015/ Independent Balkan News Agency
By Zacharias Petrou
In an interview on public television ERT1 on Tuesday night, Greek Prime Minister Alexis Tsipras defended his decision to agree a fresh bailout deal with EU partners even though he doesn't believe in the adjustment program it carries.
Tsipras was highly critical of Greece's eurozone partners. "Last night was a bad night for Europe" he said. However, the premier added, signing a painful deal was better than leading the country out of the eurozone.
Severe pressure was placed on the country and its people and traditions of Europe were not respected, according to the Greek Prime Minister. "We ended up with a tough agreement, but at least it's not the dead end we faced earlier" he explained.
"I am fully assuming my responsibilities, for mistakes and for oversights, and for the responsibility of signing a text that I do not believe in, but that I am obliged to implement," Tsipras said.
Even now, however, Tsipras couldn't categorically say Grexit is out of the question until the loan agreement has been signed. The PM admitted that Greece isn't in a position to handle a return to the drachma. Not only would the banks collapse, but it would cause 'huge problems' elsewhere, he explained.
Asked about suggestions Sunday's deal was an attempted coup, Tsipras said there are conservative groups – in Greece and abroad – who would like his government to fall. "A captain cannot abandon ship" Alexis Tsipras argued and asked his Syriza cadres not to allow the party to split.
On Wednesday parliament will vote on a series of prior actions that will enable talks to begin on a new European Stability Loan worth EUR 86 billion and unlock bridge funding to cover immediate needs.
More than 30 Syriza hardliners are expected to vote against the bill. Several key ministers will also reject the deal while Tsipras's coalition partner Panos Kammenos says he supports the government but will not back the bailout.
This leaves Tsipras facing a full blown political crisis as he stands to lose majority in the House and will need the votes of the opposition – which he has secured – to push the key legislation through parliament. Later in the week the Greek PM will also need to carry out a cabinet reshuffle.
"I have no reason to call an election" he told ERT1. However, after the ESM loan has been secured calling an election or not will depend on developments in the ruling party whether or not the Syriza – ANEL coalition commands a majority.
Regardless of whether or not an election will be called in the autumn, the Greek Prime Minister appeared determined to "implement my political plan over the four years", arguing that Greece can exit the crisis in three years despite the austerity and radical economic reforms demanded by creditors.
Tsipras highlighted that he achieved an agreement with harsh structural reforms and fiscal adjustment which, however, covered long & short term funding needs and secured funds for growth and the prospect of debt relief.