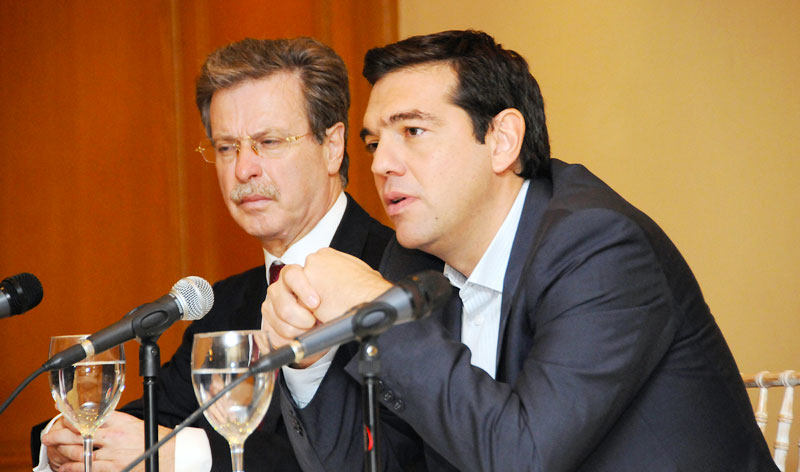 Athens, December 2, 2014 / Independent Balkan News Agency
By Spiros Sideris
The pillars of SYRIZA's program for a sustainable solution for Greece, developed Alexis Tsipras at a working lunch he had today at the Greek-Italian Chamber.
Our intention, said the president of SYRIZA, is to assert safely a sustainable solution for Greece, which is both a viable solution for the entire European region. And in this direction, he added, we consider a strategic alliance, the cooperation with countries of the European region and especially southern Europe, we have common goals and common interests.
Recalling that himself two months ago in TIF announced a program-framework, which aim is primarily to restore the key healing of social ills that the policy of austerity has brought the last four plus years", Tsipras noted that SYRIZA plans the "lifting of repression in the real economy", the recovery of labour and employment, with the creation of 300,000 jobs in the first two years of government of the country from SYRIZA, and changes in the political system.
Introducing in briefl the positions of his party, Tsipras pledged inter alia:
Simplification of licensing and business operation.
Establishment of simple and stable tax system and at the same time a substantial tax audit of large companies with effective control of intercompany transactions.
Channeling resources into the real economy. Establishment Bank Development Public. The creation of a special purpose bank for small businesses and farmers.
The create public intermediary for the management of private debt to banks.
Measuress for the strengthening of the competition, the fight cartels and the reduction of prices.
Institutional and functional upgrade of the Competition Commission.
The adoption of legislation to display net prices in the sales invoices and limitation on the issuing of credit notes and service invoices.
Reform of the bankruptcy business framework.
Acceleration of the conferment ofjustice.