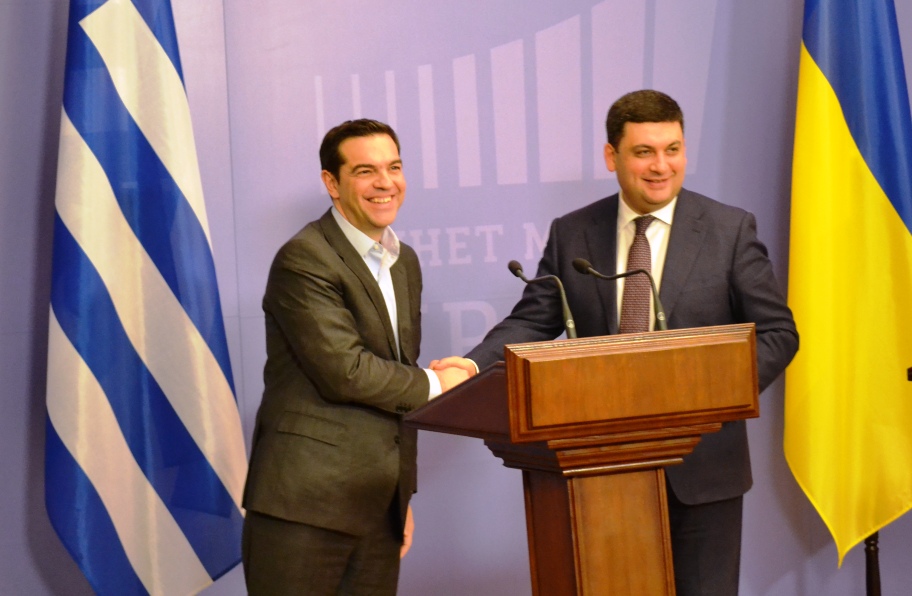 Greek Prime Minister Alexis Tsipras, arrived at a frozen -20 degrees Kiev late on Wednesday afternoon at the invitation of Ukrainian President Petro Poroshenko. Tsipras is on an official visit on 8 and 9 February.
Alexis Tsipras, accompanied by the Greek Foreign Minister Nikos Kotzias, the Deputy Foreign Minister responsible for Greeks Abroad and the Special Secretary Economic Relations Ministry of the Ministry of Foreign Affairs Giorgos Tsipras, will meet with the political and state leadership of Ukraine.
The tense relations between Ukraine and Russia after the annexation of Crimea to the Russian Federation, have left indelible signs in the everyday life of Ukrainians, who after 2013 have experienced an unprecedented crisis.
Kiev's «Maidan Nezalezhnosti» central square, where mobilisations for the country's independence in 1990 took place, is a traditional venue for political rallies, among which four large-scale demonstrations, the student revolution in 1989, the "Ukraine without Kuchma" campaign in 2001, the Orange Revolution in 2004 and the pro-European Euromaidan demonstrations in 2013-14. Today, one can see hundreds of monuments in memory of the country's turbulent course, from the dismemberment of the USSR until the secession of Crimea.
From the city of Kiev and during the joint press conference with his Ukrainian counterpart Volodymyr Groysman, the Greek Prime Minister emphasised that "Greece supports the need for peace in Ukraine in all fora." "Greece is particularly interested in the wider Black Sea neighbourhood, with which it is connected with close ties,"said Alexis Tsipras noting that" more than 100,000 Ukrainians of Greek origin are living in Ukraine and speak the Greek language. "
"On this basis, we talked about our bilateral cooperation. We are in a new phase of our transition to global developments and our countries must strengthen dialogue and ensure peace in the region. The Minsk agreement for peace in Ukraine must be implemented, "said the Greek Prime Minister.
As regards economic cooperation, Tsipras stated that "we decided to hold an interministerial meeting in the near future" and stressed that there are significant opportunities ahead. While he also mentioned the Greek Ukrainian Economic Forum taking place in Kiev.
Finally Alexis Tsipras called the meeting with his Ukrainian counterpart very important.
On his part, the Ukrainian Prime Minister Volodymyr Groysman, thanked him for his visit, which, he said, was the first visit by a Greek prime minister in Ukraine and stated: "We have room for economic cooperation, we discussed security issues and bilateral relations for cooperation between the two countries. "
During the meeting between the two men, the Ukrainian Prime Minister said that "in Ukraine we are proud of the large Greek community".
Alexis Tsipras, on Thursday February 9, will meet with Ukrainian President Petro Poroshenko, and will also visit the museum and Cathedral of St. Sophia in Kiev, while in the afternoon he will meet with representatives of the Greek Community in Ukraine.
According to IBNA information during the meeting of the Greek Prime Minister with the Ukrainian President initiatives to resolve the Russia – Ukraine crisis will be discussed./ΙΒΝΑ
Photos: IBNA/Spiros Sideris