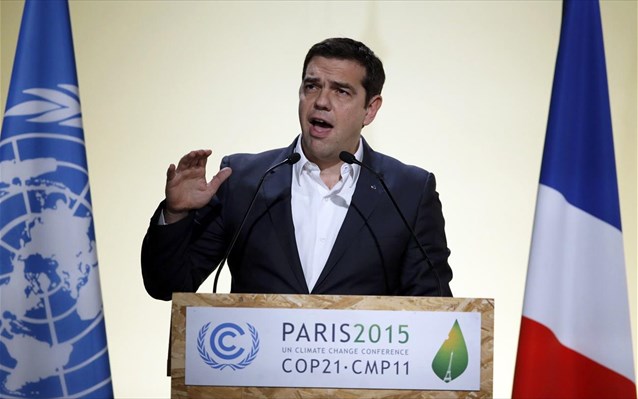 Athens, December 1, 2015/Independent Balkan News Agency
By Spiros Sideris
"This summit should be a historic turning point. We need to accelerate the global transition to a climate-friendly, sustainable society", Greek prime minister Alexis Tsipras said in his speech at the World Climate Summit taking place in Paris.
Tsipras said that "Greece, which is currently experiencing an unprecedented refugee crisis and human despair, places political priority to the need to avoid the risk of displacement of climate change" and has sent a message saying: "I hope that all of us in this room will not prove to be inferior to the circumstances", "because we will not allow future generations to accuse us that we took advantage of the opportunity".
He said that "we are here to make decisions, binding for all of us. We know what we must do. We are here to decide how to do it", to emphasise that "the Paris Agreement should provide a legally binding framework that will be based on transparent procedures, accountability and compliance to be applied by all parties".
From Paris, the city wounded by terrorism, as he noted, he emphasised that "we appear united and determined to lead humanity into a new era of peace, democracy, solidarity and ecological awareness".