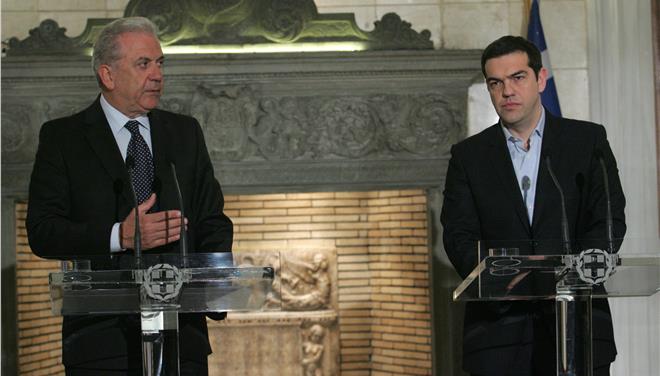 Athens, April 8, 2015/ Independent Balkan News Agency
By Spiros Sideris
Dimitris Avramopoulos: Immigration policy should not be confused with the negotiations
The need to develop a long-term national strategy on immigration, integrated into the European framework and away from petty party expediencies that legitimise their extremist rhetoric, stressed Prime Minister Alexis Tsipras in his statements after the meeting he had with the Immigration and Home Affairs Commissioner, D. Avramopoulos.
Tsipras noted that the EU's immigration policy is the "touchstone" of Union policy, since, as he said, it is a matter of humanism and solidarity. He also spoke of a failure of the current EU policy, stressing that Greece due to choices and decisions of the past has been turned into a "warehouse of souls".
To manage the problem, noted the Prime Minister, double solidarity should be applied: first to the people who migrate and secondly to the EU countries who are immigrants gateways. This solidarity, he stressed, must become reality with the revision of Dublin II and III and through it, with the better redistribution of asylum seekers.
Avramopoulos: It is common knowledge that something must change
On his part, Avramopoulos said that immigration and security of shared European borders is at the heart of European interest and assured that Greece in addressing the immigration issue "is not alone" and that "Europe is on its side".
He also shared the concern of the Prime Minister on changes to the Dublin II and III, noting that "it is common knowledge that now something has to change", but explained that it depends on the Member-States and the European Council. He also agreed on the need for Greece to obtain a national strategy on immigration and announced that next month he will present his report on immigration and security.
Moreover, Avramopoulos asked that the issue of immigration policy not be confused with the negotiations with the institutions nor become a subject of abused.
Avramopoulos passed on a message of friendship to the Prime Minister by the President of the European Commission, Jean-Claude Juncker and in relation to negotiations with European partners noted that "participation in the eurozone is a guarantee for the security and stability of Greece".
Finally, he wished a solution to be found as soon as possible, adding that it cannot be imagined that there will be a government that would compromise the historic conquest of Greece to be at the heart of Europe.