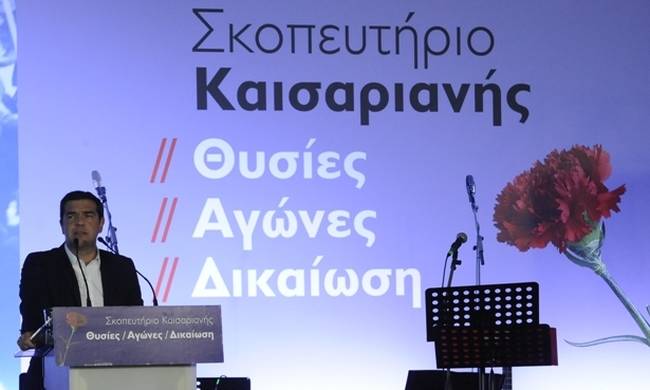 Greece deserves to be included in the European Central Bank's (ECB) quantitative easing program as soon as possible, which is why the country's debt must be discussed, Prime Minister Alexis Tsipras said on Sunday, during his speech at a meeting of SYRIZA's central committee.
The committee is convening to discuss the election of a secretary and the political secretariat.
"Greece deserves to join the ECB's quantitative easing program as soon as possible. And to join, the conditions are clear: We have to specify the measures on debt in the framework of Eurogroup's decisions," Tsipras, who is also party president, told the committee.
Commenting on the government's negotiations with the institutions on the second program review which got underway on Sunday, he said the main issue to be discussed is labour law reforms.
"Concerning the negotiation, we're at the phase where we have to move ahead with what is foreseen in the second review, which has labour laws at its core. But, at the same time – and this might be the most important element in the agreement – we have to take definitive decisions about the debt," he said.
On the ongoing TV licensing procedure, the prime minister says the issue is about defending Democracy and the rule of law and criticized the main opposition for blocking the relevant tender and law.
"The biggest front in the fight against interwoven interests is the granting of the TV licenses, which concerns the defense of Democracy and rule of law," he said adding that New Democracy leader Kyriakos Mitsotakis tried to sabotage the law in order to block the tender.
"It's extreme ironic that those who have made a profession out of intervening in justice, who have drafted along with vested interests an orgy of interventions and the intimidation of judges, are criticizing us," he added.
On labour rights and the ongoing negotiations with the institutions, Tsipras said the government wants to restore collective labour agreements and stop underpaid work.
"Our planning is based on adopting a new productive model, on the condition that we protect employment. Based on this logic, we must put an end to underpaid work, undeclared labour and the continuous fear of layoffs. The most important step to that direction is the restoration of collective labour agreements, which is the basis for the protection of employees," he said.
"With this principle we come to the negotiations, while at the same time intensifying work on fighting undeclared work."/ΙΒΝΑ