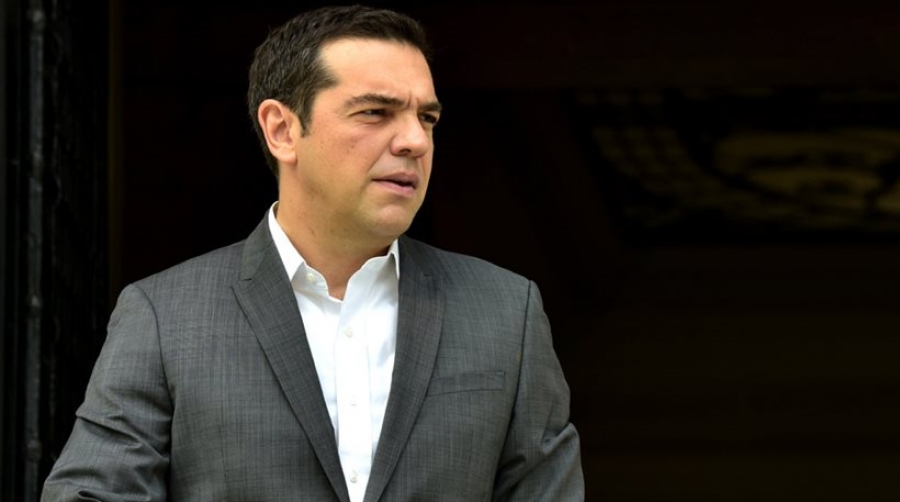 The Greek Prime Minister's "answer" to Erdogan
By Michalis Michael
From Cyprus, where he is in order to attend the funeral of the former President of the Republic of Cyprus, the Prime Minister of Greece during his visit to a camp of ELDYK (Greek Forces in Cyrpus) passed his own messages and "responded" to all that Recep Tayyip Erdogan had said earlier. The latter, insisting on the provocative tones, stressed that no matter what the Greek Prime Minister says, the drilling will continue.
"Anyone who violates the rights of the Republic of Cyprus will face the consequences," Prime Minister Alexis Tsipras said, adding that it is the inalienable right of Cyprus to exploit its resources.
"Only in the context of international law can we proceed and anyone who violates the rights of Greece and Cyprus will have consequences, and in each case the price will be high, because we are determined to defend our sovereign rights. I am also here with you, in your camp- in our camp- to convey to you the salute of every Greek man and woman, the greeting of the homeland", Alexis Tsipras stressed, among other things, while addressing members of the ELDYK in Cyprus.
"Let me assure you that despite the years that have passed nothing has been forgotten, no one has been forgotten, from the heroic struggles, and the dead of ELDYK during the Turkish invasion. The homeland remembers and honours its children who fell with the name of Greece and Cyprus on their lips. You know, and you must know, that you represent the solidarity, the support, of Greece in the Republic of Cyprus and the role of Greece as the most important pillar of peace and stability in the region," the Prime Minister of Greece said.
Meeting with Anastasiades
The Greek Prime Minister, during his brief visit to Cyprus, will meet with Cypriot President Nicos Anastasiades, and will, according to information, discuss Turkey's provocations and their joint coordination in order to deal with them.
The Cypriot President has already had a meeting with Mr. Koumoutsakos, who represents New Democracy at the funeral of the former President of the Republic of Cyprus Demetris Christofias. If Turkey insists on a constant counter-productive and illegal tension, the EU must move from words and statements to actions, and decide measures and sanctions against that country, which will find Hellenism united against it, the MP of New Democracy stressed. He also said that the President of the Republic informed him fully of the latest developments. "For our part, we reaffirmed our continued unwavering support for the Republic of Cyprus, as well as the coexistence of our positions for the need for clear dissuasive messages towards Ankara at a national level, Cypriot and Greek, as well as on a European level," Mr. Koumoutsakos said.
"Because Ankara with this policy does not only undermines and violates the sovereign rights of the Republic of Cyprus, it does not only deny international law, but it also opposes the vital interests of Europe, i.e. interests which are directly related to Europe's need to secure alternative energy sources and routes, in other words it is against Europe's strategy for energy security," he noted./ibna