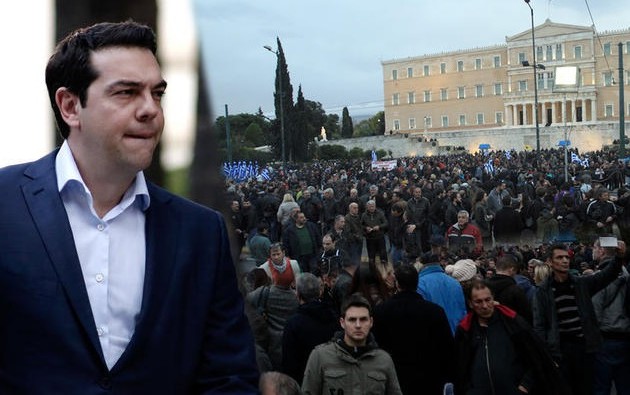 Athens, February 22, 2016/Independent Balkan News Agency
By Zacharias Petrou
Following a marathon meeting which lasted over 5 hours, Greek Prime Minister Alexis Tsipras and farmers emerged without agreement on Monday evening.
Farmers representatives were mostly disappointed by the proposals on social security reform made by the PM, according to sources. However, they said that they will take the proposals to farmers still at blockades for discussion and decisions on further actions will be made subsequently.
The government offered to lower social security contributions for farmers for a transitional period, to 16% from 20% foreseen by the initial plan of the Labor Ministry.
Vangelis Papagiannoulis, the union leader who represented farmers from 39 roadblocks around Greece who had sent a letter to Prime Minister Alexis Tsipras presenting their proposals for social security, pension and tax reforms for the sector said on Monday they had a "meaningful debate" with the premier on the all issues.
Farmers from various roadblocks had sent a letter to Tsipras on February 10, which outlined the proposals on which they would accept a dialog with the government.
Earlier, Alexis Tsipras said he is open to dialogue. "We will listen carefully to your proposals and positions because they constitute a very good basis for a dialogue that should have started a long time ago".
"If we do not regain our national wealth, we cannot speak either of income or pensions or exit from the crisis," Prime Minister Alexis Tsipras on Monday said to the farmers' representatives at the beginning of talks.
Addressing the farmers, he said that "we cannot draft a policy for the productive restructuring of the country without taking into account your proposals and positions but at the same time you should take the overall problem of the country and the fiscal conditions under consideration."
Meanwhile, the Promachonas checkpoint at the border with Bulgaria was blocked off indefinitely by protesting farmers a short while ago.
Some farmer representatives complained that they were not allowed entry to the meeting as strong security measures applied and riot police were standing by the Maximos Mansion where the meeting took place.
Farmers have been protesting changes to the social security system affecting their industry for over a month, keeping key points of the national road network blocked off and closing down customs offices in the north of Greece.
The aim of the government, according to press reports, is to cause a split among protesting farmer unionsthat will eventually lead to a deal with their majority to stop protests and agree on a common reform plan. Already, a rift among farmers is evident as some are pushing for certain demands and others put their own set of proposals forth.
Greek Agriculture Minister Vangelis Apostolou stressed the importance of consensus from all sides in order to find solutions to the problems adding that the government has done its best to improve its proposals on tax and social security issues.