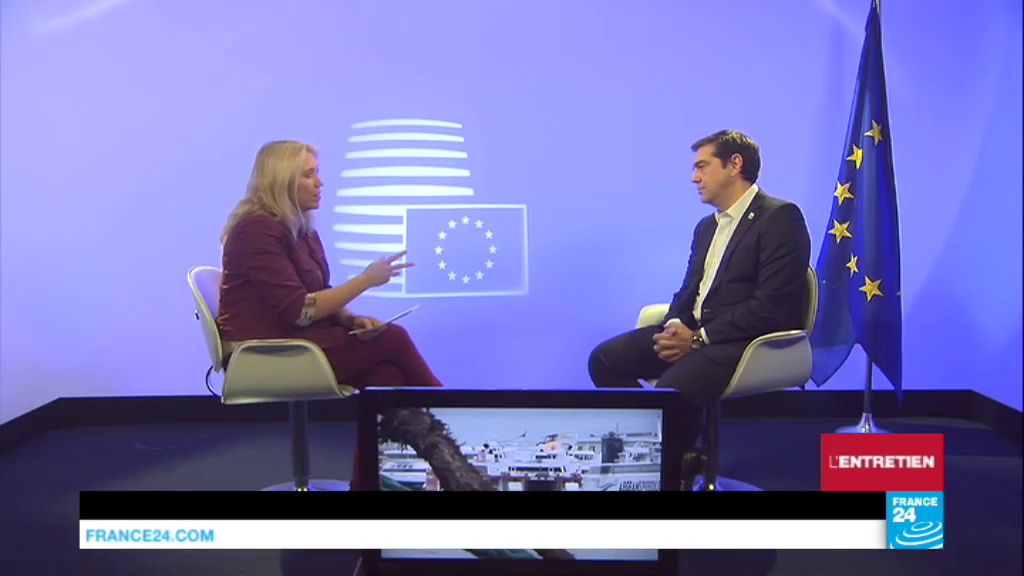 Greek Prime Minister Alexis Tsipras talks about Greece's next support plan, relations with Germany, the refugee crisis and Turkey as well as the infamous Hollande book, in an interview with France 24 journalist Caroline de Camaret
Caroline de Camaret: Good morning Mr. Tsipras, everyone knows in Europe, that you became Prime Minister in January 2015, the head of a government of the radical Left, which was designed to juxtapose austerity. Well, Prime – Minister, Athens is expected to receive a new financial support of 2.8 billion EUR in the third EU support plan, but in return it has agreed to reduce pensions, increase VAT, and approximately 40 other measures. The radical left continues to exercise a policy of austerity.
A year ago we put up a big fight to defend the right of the Greek people and at the same time to call Europe to change its course.
We argued that austerity is not a solution to problems, but a growth agenda is needed instead.
Perhaps on the ethical side we scored a victory, but the force of the powerful and the markets prevailed over the right of a people that has suffered unfairly in recent years.
We faced the need for a compromise to be struck when in front of us we were faced with the most extreme conservative plan, that of the German Finance Minister who threatened Greece with being thrown out of the eurozone.
The compromise was for an agreement with less austerity compared to recent years, but nevertheless one that imposed austerity. We are implementing it as we have no other choice. We are implementing almost all provisions but at the same time we demand that our partners respect their obligations.
Caroline de Camaret: Well, more specifically, you have requested from the beginning when these measures were accepted a debt relief equivalent to 178% of GDP, and so far you have no specific guarantee from Germany.
In the past six years, our partners and especially the representatives of the German Finance Minister, kept saying that Greece needs to deliver on its commitments. For the first time we can say that the other side, Germany too must deliver on its commitments. Pacta sunt servanda. Agreements must be kept. Exactly because the end of the first review is the time that Greece's debt issue should be addressed. I believe we deserve this.
Europe is in a period of uncertainty. Greece is in the middle of two parallel crises, the debt crisis and the refugee crisis. We play a role of security and safety in a wider region that includes Turkey, Syria, and Libya. We must all realise that Europe cannot risk new sources of instability. It must implement everything it has agreed to provide an outlook to growth for the Greek economy. A signal must be given for foreign direct investment in Greece that will in turn provide large growth rates; and our plan of course is for this growth to be fairly distributed.
Caroline de Camaret: Your popularity has fallen in the polls while on the other hand we see a rise in the polls for the Right. Many believe that you have betrayed the ideals of the radical Left. How do you respond?
Up to this day we have trailed in opinion polls but won in elections. This happened in the 2015 election, the referendum that followed and the elections in September 2015. We don't mind. We'd rather win elections than lead in polls. The most important poll for us is the one that will take place in the election in 2019 in which the Greek people will compare our four years in power that would have taken the country away from memoranda and the catastrophic 2010-2015 period of the systemic party rule that led to a 25% of GDP being lost and unemployment to the unacceptable high of 27% which is at 50% for younger citizens.
Our aim is to bring Greece back to normality by 2019. To be finished with austerity, to have positive growth rates and proper social justice.
Caroline de Camaret: On the 20th and 21st of October you are participating in the European Council on migration. Do you think that the agreement with Turkey is adequate, has Greece been relieved or is it still receiving still too many migrants and asylum seekers, and is it difficult to manage the cases?
The agreement with Turkey is difficult but nevertheless necessary. Its effectiveness is judged in many areas. In terms of reducing deaths in the Aegean, which for me is of utmost importance, this agreement is already being implemented and is effective. Of course we are called to implement the agreement in the framework of international law which means respecting international law. As you can understand this isn't the easiest thing that could happen. But, Greece which is continuously under great pressure, I believe is responding. Greece today is doing everything, and will continue to do everything, in order for there to be stability in Europe. We saw this in the financial crisis where the Eurozone was not dismantled because of the sacrifices made by the Greek people; and in the refugee crisis in which Greece has showcased the value of solidarity. It is the country that is limiting flows and tackling trafficking of people to Europe. But Europe must do its duty too. It must proceed with the relocation process and make it faster. It must stop the illegal flows that must be replaced by legal flows of refugees to central Europe.
Caroline de Camaret: The relocation of migrants has reached a ground zero. The eastern countries have "buried" it.
In my opinion it is an existential issue for Europe. It will determine if the EU is a union in which each member-state does what its own part and whatever it believes concerns it, without the sharing of responsibility. In this case the EU will not have prospects as a Union. I believe we must make crucial decisions. Countries that refuse to share the burden must be penalised in relation to the social cohesion budget. We would have an ala carte EU in which the value of solidarity and burden sharing will not apply. This would be catastrophic because it will lead to de facto dissolution and destabilisation of the European Union.
Caroline de Camaret: Last question, about François Hollande. He has developed a polemic after the book by two journalists, stating that they received a call from Vladimir Putin, in which it was said that you considered to print drachmas, and exit the euro, after the referendum last July. What is your version of events?
The plan for Greece to exit the euro and return to the drachma was not one that concerned me, Francois Hollande, or Vladimir Putin. It was Wolfgang Schaeuble's plan. A plan that failed mainly because of the capacity progressive EU governments had to cooperate and convince Angela Merkel not to implement it. I want to say in absolute terms about everything that is being said and written lately that may have a fictional value, but nevertheless, do not reflect reality. Both myself and Francois Hollande know the difficulties we faced in that period very well and how great a soul we showed to keep Europe united.
Caroline de Camaret: There are many questions about the future of Europe. You highlight the differences of the 27 after Brexit. Is there a real possibility to make a step forward, especially with the social democratic concept you would like?
I am deeply concerned because the danger for Europe today is not the Left which is demanding Europe changes but the far Right which wants Europe to break up. It is demanding this relentlessly and unequivocally. Brexit is a danger signal. An alarm that must awaken the sleepwalker that is moving towards the cliff. And I think we don't have much time any more. Crucial decisions are needed fast.
Caroline de Camaret: And have a very tough stance towards the British?
The now 27 members of the Union should make their decisions without further delay. I don't believe we need to be tough. I believe we should protect the unity of the EU. The British people made a choice that we must respect. But this choice has some consequences./IBNA