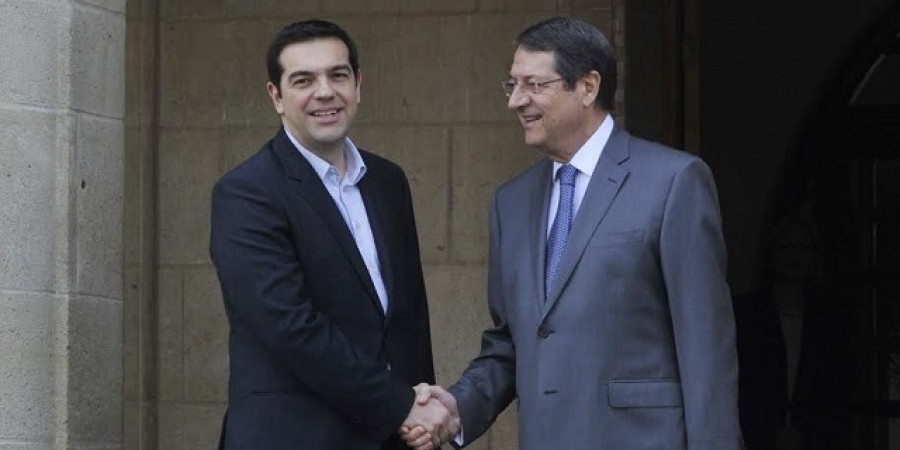 Nicosia, February 2, 2015/ Independent Balkan News Agency
By Kyriacos Kyriacou
Greek Prime Minister Alexis Tsipras, speaking in Nicosia on Monday during his first foreign trip as prime minister, said that he discussed in a meeting with Cyprus President Nicos Anastasiades the need for a coordinated stance for a "bridge of peace and cooperation between Europe and Russia."
Tsipras underlined that EU and Eurozone, without Greece and Cyprus, is "mutilated by its SouthEast end".
He added that his left-wing government would make full use of a mandate for negotiations with European partners and ruled out seeking aid from Russia.
"We are in substantial negotiations with our partners in Europe and those have lent us. We have obligations towards them," Tsipras said.
Tsipras also ruled out his country leaving the euro, saying anyone who believed small euro zone states like Greece and Cyprus were not essential in the bloc would be disproven.
"The EU and eurozone would be both dismembered along their Southeastern flank without Greece and Cyprus," Tsipras said.
He also called for the "troika" mechanism of European Commission, European Central Bank and IMF inspectors overseeing the finances of struggling countries to be replaced.
"I believe that this would be a mature and necessary development for Europe," Tsipras said.
He referred to Greece's clash with the troika over its adjustment programme, saying: "It is not just Greece and Cyprus that are in crisis. Europe is in crisis." He said Europe needed to return to a path of development, not austerity. Cyprus and Greece, as he underlined, were also aligned on the EU's stance with regard to sanctions on Russia. 
He said there was a need for a bridge between Moscow and Brussels.
Tsipras said "it was not by chance" his first official visit as Prime Minister was to Cyprus, and spoke of the historic ties between the two countries.
Cyprus problem
In the meeting the two leaders exchanged views on the Cyprus issue and more specifically on the peace talks between the Greek and Turkish Cypriot sides to unify the island divided since 1974 Turkish invasion.
He reiterated that Greece supported a bi-communal bi-zonal federation in Cyprus. Athens and Nicosia were on the same page, he said, referring to Turkey's violation of the island's exclusive economic zone, which he said was contrary to international law.
He also said a sustainable solution to the Cyprus issue would be a "litmus test" for Greco-Turkish relations, and also for the region.
Anastasiades reiterated that the any hydrocarbons found in the island's EEZ would be used for the benefit of all legal residents of Cyprus.
"Energy is the most powerful motivation that will lead  a comprehensive settlement of the Cyprus problem that will leave no winners and losers, but will meet the expectations of the people of Cyprus, Greek Cypriots and Turkish Cypriots, to create a modern European state," he said.
Meeting with Archbishop
After the official talks at the palace, Tsipras met with Archbishop Chrysostomos for talks. In a press conference the Greek Prime Minister thanked the Church of Cyprus "for the help and support of the Greek people, tested by crisis and policies that wronged low income citizens, something that is also happening in Cyprus". 
He wished the Church of Cyprus to "continue its work in a time where religious hate is rising leading to fanaticism".
At around two o clock local time, was in meeting with House President Yiannakis Omirou. He is slated to meet former Cyprus President Demetris Christofias, representatives of the missing persons and NGOs before addressing a special session of parliament at 8.30pm. This will be followed by a dinner in his honour hosted by Anastasiades. 
Tsipras is due to leave Cyprus at around 10pm.