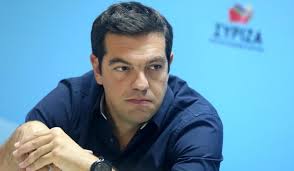 Review Hari Stefanatos
"Tight fiscal policy puts us in danger of a global economic recession", said the president of SYRIZA, Alexis Tsipras, in an interview with Italian newspaper La Stampa.
"The tight fiscal policy and austerity, this medicine is not only wrong but also dangerous. After five years, the crisis, rather than becoming extinct has multiplied, it has metastasised. And now we are in danger of a global recession", adds Tsipras.
"Greece has its responsibilitis, but in my country applied the most 'violent' program ever adopted in Europe", noted head of the greek opposition, and explains this position by saying that "GDP dropped by 25% in four years, the official level of unemployment is 28% and the public debt rose from 126% to 175%; figures unacceptable for a European country".
"No country can have a debt that is almost twice its GDP, because the repayment of interest alone crushes any possibility of development", says Alexis Tsipras.
This crisis, as the president of SYRIZA says "is not only a problem of Greece, Italy or Spain, but a structural problem. If we understand this, we also will understand that we should deal with it in a political way and ceate a more democratic Europe: at present, 27 discuss, but in the end Merkel always gets what she wants".
Regarding Germany, Tsipras stresses in La Stampa that "I think they need to increase prices and wages", because "a little inflation would not hurt".
Alexis Tsipras also states that "we must strengthen the role of the European Investment Bank, provide technological modernisation that will create and not reduce jobs and make public investments", since "this is not a new recipe, but one that was applied to the other side of the Atlantic in 1929".
At the same time, the opposition leader says in La Stampa that "the economies of various countries should be given the necessary time to stand on their feet, without the commitments of the Stability Pact" and that "we need a solution for the debt, like the solution that was found in 1953 – driven by European solidarity – for the war debts of Germany".
Regarding the latest decisions of Mario Draghi, believes that "they are towards the right direction, but he does not believe that the decisions of the ECB can push for a lasting economic recovery". "This is mainly a symbolic message to Merkel", explains Tsipras.
In relation to the "possibility of a return to policies of Keynes", in a relevant question by La Stampa, the head of SYRIZA answered: "I believe that day by day, more and more persons – including the Germans – understand that is the right way. But I fear that we are too late".