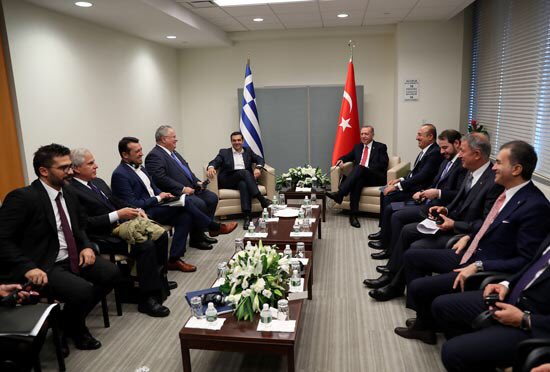 Alexis Tsipras and Recep Tayyip Erdoğan met on the sidelines of the 73rd UN General Assembly in New York on Tuesday 25 September. Their meeting went smoothly as there were no surprises and it was based on mutual understanding.
The positive climate change between the two leaders since their last meeting in Brussels on the sidelines of the NATO summit offered the opportunity for a constructive dialogue on the basis of a dropped-ball like Greece -Turkey positive agenda.
This is confirmed by the invitation addressed by the Turkish President to the Greek Prime Minister to visit Istanbul in order to continue the dialogue on resolving bilateral issues and the beginning of an effective multi-level co-operation.
The issues discussed at the meeting concerned migration and the implementation of the EU-Turkey Agreement with a view to further reducing refugee flows, enhancing security co-operation by dismantling trafficking networks and countering terrorism, economic co-operation and the defreezing of the decisions of the Supreme Cooperation Council held in Izmir on March 8, 2016.
According to IBNA, the greatest part of the two-day meeting of the two delegations regarded the positive agenda, but also references to major issues. For the Cyprus issue and the need to resolve it on the basis of the Guterres framework for a just and viable solution according to UN decisions, Alexis Tsipras also pointed out the need to reopen the talks.
For his part, the Turkish President reiterated his support of the Guterres proposal, noting the Turkish Cypriot positions on security and the guarantees of the Turkish Cypriot community.
The Greek Prime Minister also broached the matter of the reopening of the Halki Theological School and the elections of the Waqf Committees, while the Turkish President reiterated Turkey's positions on the issues of the Muslim minority in Thrace.
Both sides considered the meeting positive and could be the beginning of a new positive approach between Greece and Turkey. As sources explained to IBNA, this was facilitated both by the open channels of communication between the two Foreign Ministries and in particular the personal relations among FMs Kotzias and Çavuşoğlu as well as by the presence of Hulusi Akar at the Turkish Ministry of Defence, which opens new prospects in understanding and co-operation of bilateral contacts.
The Turkish side sees Greece as one of the countries it can trust because it does not treat it led by a double standard method, as a Turkish senior official told IBNA.
A prerequisite for Greece to continue the fresh rapprochement is the respect of International Law and the reduction of tensions in the Aegean, so that Greece can assist Turkey's European course, a fixed position of it…. / ΙΒΝΑ