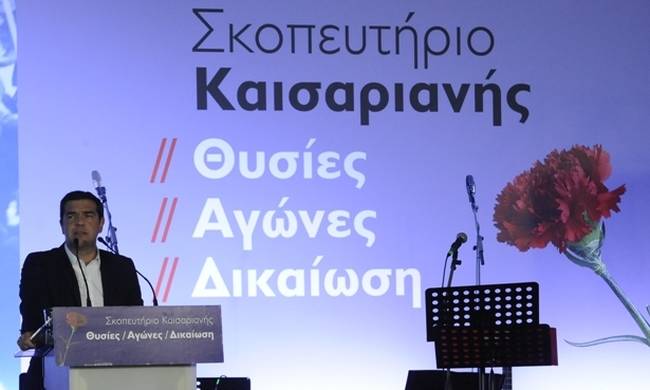 Greek Prime – Minister Alexis Tsipras conquered the SYRIZA Central Committee elections which were held on Sunday afternoon in a central Athens hotel.
During the Central Committee meeting Panagiotis Rigas was re-elected as SYRIZA General Secretary. Rigas was responsible for  bringing the party together during his first term.
He received 111 votes out of 150, while 38 were left blank and 1 null.
The Political Secretariat, is divided into two bodies, under its new format that will work individually on a weekly basis and daily if necessary. The only common members are Alexis Tsipras and Panagiotis Rigas, Secretary of the party.
The two new bodies:
Political Council: It deals with all government policy, consists of 11 members, mostly ministers, and will replace the informal government meeting that took place every Monday.
The new members of the Political Council are:
Vaki Fotini (Parliamentary Representative SYRIZA), Voutsis Nikos (Speaker of Parliament), Dourou Rena (Governor of Prefecture of Attica), Dragasakis Giannis (Vice President), Mpalafas Giannis (Deputy Minister of Interior Affairs), Pappas Nikos (Minister of State ), Svigkou Rania (Spokeswoman of SYRIZA), Tzanakopoulos Dimitris (Tsipras Advisor), Tsakalotos Euclid (Finance Minister), Filis Nikos (Minister of Education), Christodoulopoulou Tasia (Deputy Minister of Education)
Executive Council: It deals with organisational and political issues, such as the preparation and activity of the party sections it has been proposed it should be comprised of 16 members.
The Executive Board member are:
Anagnostopoulou Sia, Dimitriadis Dimitris, Iliopoulos Nasos, Theodorakopoulou Natasa, Kalamara Efi, Kalkandis Petros, Karageorgos Petros, Knitou Katerina, Kotsakas Antonis, Kyprianidou Ermina, Lamprou Panos, Mantadakis Aggelos, Mpournous Giannis, Skorinis Nikos, Ydreos Michalis, Christopoulos Alexis.
The SYRIZA Policy Secretariat (comprised of 29 members), which will act as "umbrella" to the two bodies will meet once a month.
The aim behind the restructuring is to harmonize government and party function so that government and party are jointly responsible, co-responsible and accountable./IBNA