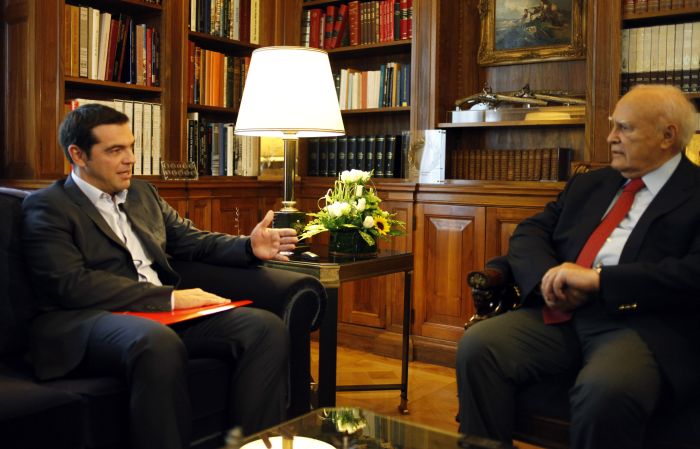 By Lefteris Yallouros – Athens
Main opposition SYRIZA leader Alexis Tsipras met with the President of the Hellenic Republic, Karolos Papoulias, Monday and demanded the Prime Minister calls a national election immediately.
Following his party's victory in Sunday's European Parliament elections by a 3.75 pct margin over ruling New Democracy, Alexis Tsipras pointed out that the government no longer has the political legitimacy to proceed with crucial negotiations with the country's international lenders. He also warned Prime Minister Antonis Samaras against appointing a new Central Bank governor or EU Commissioner without consulting SYRIZA, which, in Tsipras's view is the most popular party in the country following Sunday's vote.
New Democracy replied immediately through government spokesman Simos Kedikoglou who said the main opposition leader was out of order and that "our responsibility before the constitution and the people is to fulfil this government's mandate."
PASOK leader and deputy PM, Evangelos Venizelos, also attacked Tsipras labelling his request for a snap election "unconstitutional". Venizelos, a constitutional lawyer, said that in his suggestion that the European election results indicated a "disharmony" between the public will and the allocation of seats in Greek Parliament was based on an old version of the country's constitution.
Antonis Samaras is scheduled to meet with the President of the Republic as well as the Evangelos Venizelos on Thursday. Analysts point out that despite SYRIZA's election victory, the coalition government will carry on at least until the debate on the election of a new Greek President begins at the end of the year.
In the meantime, the PM is considered keen on proceeding with a cabinet reshuffle which would entail a major overhaul at the Finance Ministry. Samaras and Venizelos are also exploring all possible options in order to bolster the coalition's parliamentary groups. Deputies from the Independent Greeks party and the Democratic Left (DIMAR) are being targeted as their parties suffered heavy losses in the European election. Together with independent MPs, the total number of parliamentarians which will be courted by New Democracy and PASOK reach 49.