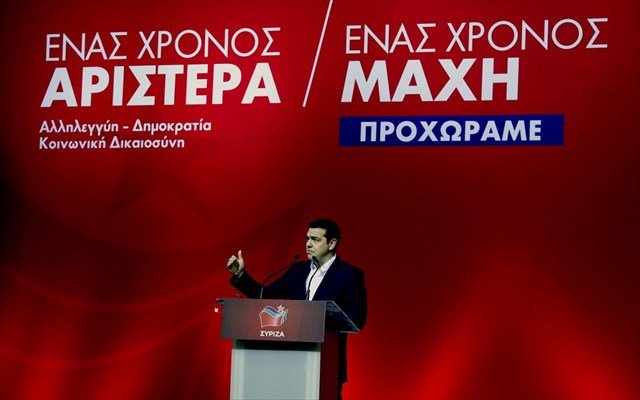 Athens, January 25, 2016/ Independent Balkan News Agency
By Zacharias Petrou
Greek Prime Minister Alexis Tsipras addressed a special event to mark the anniversary of the first time left-wing Syriza came to power on Sunday, in which he set the tone for the difficult battles his coalition government with the Independent Greeks (ANEL) will face in coming weeks.
Speaking to a crowd of Syriza Mps, ministers, officials and supporters, Alexis Tsipras set out the two roads that lie ahead for the country in his view: Greeks will have to chose between left-wing Syriza who is in favor of the many, and right-wing New Democracy which favors the few.
The PM made many references to the main opposition, proving that Greek politics are about to become highly polarized once again.
Tsipras said that in the last year his government clashed with the conservative establishment that dogmatically insists on austerity recipes and claims that these are not fundamentally wrong but rather the way they are implemented is flawed.
He said he is proud that "we gave battle in order to finish with all those that brought us here" and referred to a struggle against the oligarchy and corruption.
In a clear attempt to put some pressure on the newly elected New Democracy party leader, Kyriacos Mitsotakis, the premier demanded he made his position clear on the crucial and highly controversial issue of social security reform.
"On could either be with the mobilisations or with the IMF" Tsipras said, adding that Mitstakis must clarify "if he is with the blockades or with the IMF". The dilemma, according to the premier is clear: either social security will be reformed or the entire system will collapse.
Speaking at the Tae Kwon Do Arena in Athens, the Syriza leader also saw many positives in the first year since his coalition government was first elected to office. "We gave Greek people a breath of dignity" Tsipras said, adding that his party "challenged history and took historical responsibilities for the European and international Left."
Despite the fact that Syriza appears to be losing ground fast to New Democracy in recent opinion polls, Tsipras defended his tactics in negotiations with creditors in the past year and said his party's struggle would continue.
Commenting on the PM's speech, New Democracy said in announcement that Tsipras appeared to be in panic. The main opposition said the premier used polarizing tactics, propaganda and blatant lies in his speech. "It is clear that citizens are turning their backs to him on a daily basis" the party said.