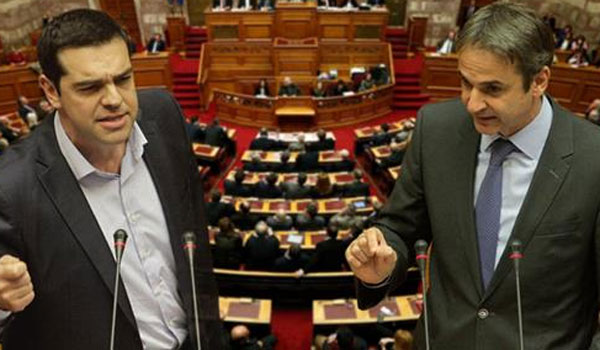 Athens, September 28, 2016/Independent Balkan News Agency
By Zacharias Petrou
Prime Minister Alexis Tsipras clashed with main opposition New Democracy party leader Kyriacos Mitsotakis in parliament on Wednesday, during a debate on education policy which sidetracked off subject into the television licensing affair that has rocked the Syriza-ANEL coalition in recent weeks.
Tsipras took the opportunity to comment on the criticism levelled by mainstream media and opposition parties at the way the government has handled the licensing of nationwide television broadcasting licenses.
The premier attacked conservative New Democracy for questioning the legitimacy of the recent TV license auction. "You are lashing out in defense of the darkest power web of the post-dictatorship period, a web built by media barons with New Democracy and PASOK," Tsipras said.
The PM added that accusations that the government favored specific candidates were proved completely off the mark, clarifying that when one of the bidders requested more time to make a down payment he was stripped off the license.
In fact, the PM said, a dedicated debate on issues of corruption should be held in parliament to examine which parties favored vested interests and which fought them.
Tsipras went on to say that his government has already began planning to channel revenue from the licensing tender to the welfare state and the poor.
On his part, New Democracy leader Kyriacos Mitsotakis slammed the recent auction for lacking transparency and a proper background checks of candidates. Most of the conservative party leaders' speech, however, focused on education.
Mitsotakis accused Tsipras that he spent 20 minutes commenting on developments in the media, ignoring government policy on education which was the main topic of the debate in parliament.
"Mr Tsipras, the Greeks are more interested in education issues than on how you will control the media landscape," he said, adding that the PM's intention is to divide society even over education.
Before the debate in parliament, an opinion poll by Pulse, commissioned by iefimerida.gr website, showed New Democracy leading SYRIZA by 8 percentage points.
The two parties are followed by Golden Dawn on 7 percent, PASOK and the Greek Communist Party (KKE) both on 5.5 percent, and the Union of Centrists on 3 percent. To Potami and Independent Greeks (ANEL) are below the three percent threshold required to enter Parliament.
Meanwhile, the plenary of the Council of State rejected on Wednesday all the petitions for injunction filed by existing TV stations that were discussed on September 17 regarding the four TV licences, while it upheld the 28 interventions submitted.
On 30 September the Council of State is to begin discussing the constitutionality of the Law outlining the TV licensing tender.