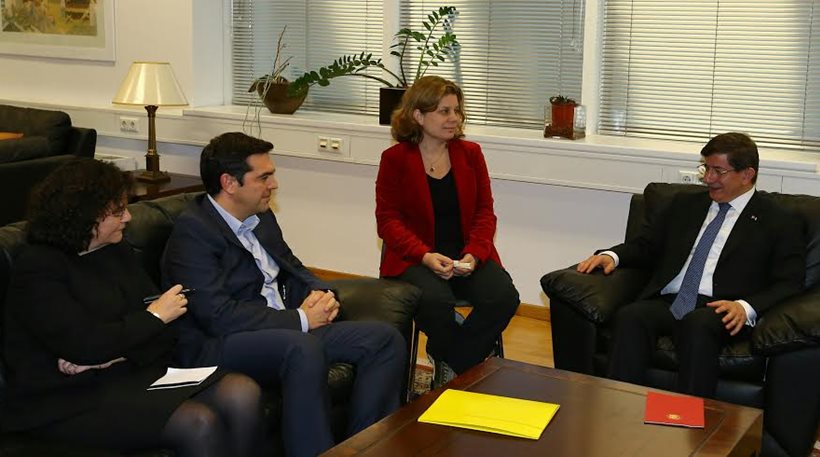 Athens, December 8, 2014 / Independent Balkan News Agency
By Spiros Sideris
On returning from his visit to Serbia, the President of the Greek main opposition party SYRIZA, Alexis Tsipras, met in El. Venizelos airport of Athens with the Prime Minister of Turkey, Ahmet Davutoglu, with the focus on developments in Cyprus and the Greek-Turkish relations.
Among other things, Mr. Tsipras stated the following in relation to the meeting: "We have responded positively to the proposal of the Prime Minister of Turkey to meet during his visit here, because I firmly believe that diplomatic channels with Turkey should remain open, and be based on immediate and deep contacts, especially in critical times like the present.
In this context, I stressed that SYRIZA firmly supports the strengthening of cooperation with Turkey in various fields for the benefit of the peoples of both countries and peace and stability in the region. It has even led in this effort through the peace movements and civil diplomacy. I pointed out, however, that for this cooperation to be effective, it must be based on respect for international law and the prospect of a just and viable solution to the Cyprus problem, on the basis of UN resolutions.
It can't be based on challenges and the create of faits accomplis. In this context, I stressed that the turkish research ship mission, accompanied by warships to conduct seismic surveys in the Cypriot EEZ and continental shelf, undermines this perspective as a violation of sovereignty of the Republic. I stressed however that the operation by the Republic of undersea mineral wealth is of particular importance for the future of Cyprus, since as it has been made clear, over time, by the Cypriot political leadership, the benefits will be distributed fairly across the two communities from the federal Cyprus Republic, following the resolution of the Cyprus problem.
At the same time, I expressed my serious reservations about the conduct of the 3rd session of the Supreme Council of Greece-Turkey Cooperation during this crisis in Cyprus, emphasising that it is an important forum for promoting cooperation in low policy issues, but not a framework for discussion of developments in the island or the Cyprus problem, for which the talks should be held in intercommunal level under the auspices of the UN".