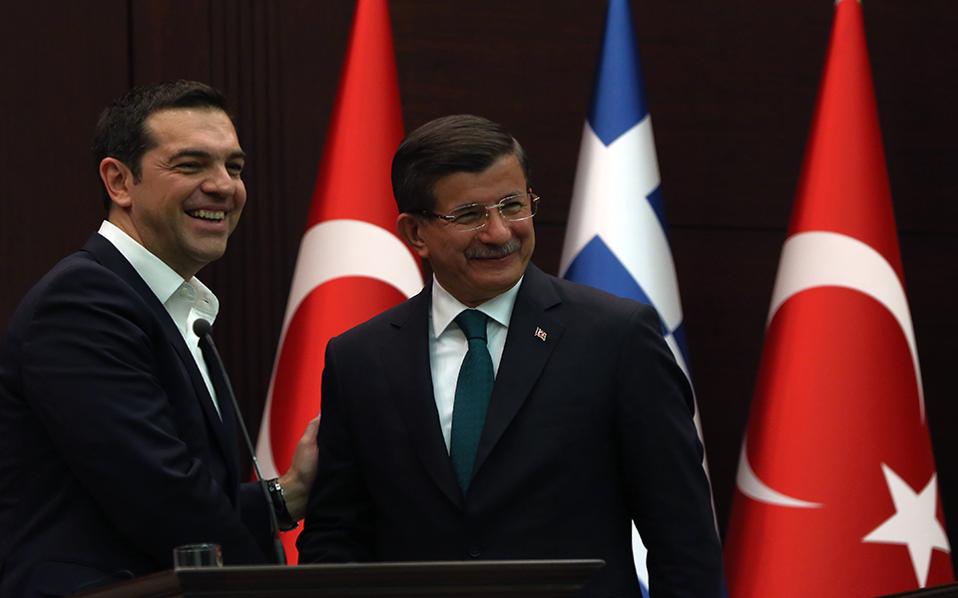 Ankara, November 19, 2015/Independent Balkan News Agency
By Spiros Sideris
The world public opinion has placed on the shoulders of Greece and Turkey burden of solving the refugee problem. It is not our problem and we will not shoulder it. We are as much victims as the refugees. The refugee issue is an international matter that should be solved with the contribution of many countries", said the Turkish Prime Minister Ahmet Davutoglu during his statements in the joint press conference with his Greek counterpart Alexis Tsipras after their meeting in Ankara.
"In Syria there is a regime of violence. If not for this violent regime, people would not abandon their homeland", he added, while noting that there was an agreement for cooperation between the two countries, both at coast guard level and in terms of the creation of joint committees by the competent ministries, which should work together.
He thanked Greece for its support to Turkey's European perspective, expressing his belief that the Greek aid will increase and noted that he trusts Alexis Tsipras, adding that he has very good communication and understanding with his Greek counterpart.
"Greece and Turkey needs to do more to tackle the circuits handling refugees, in order to stop the 'human sacrifice' in the Aegean", Tsipras said on his part, and noted that no matter how many measures are taken by the Frontex, if a political solution in Syria is not found, the problem will not be tackled at its root.
Referring to the Cyprus issue, he said that he would encourage the two communities in Cyprus to reach a viable agreement.
On Wednesday afternoon, government circles said that Tsipras' message from his trip to Turkey is that although to effectively tackle the refugee problem it is necessary to resolve the situation in Syrian, there should be an immediate EU-Turkey agreement that would lead to limiting flows and the establishing a stable resettlement mechanism from Turkey.
"In this context, there was an agreement on a bilateral Greek-Turkish cooperation and coordination, in order to decisive deal with traffickers", said the same sources.
Finally, it was officially decided to hold a fourth bilateral meeting between the two governments in Ankara in early February.