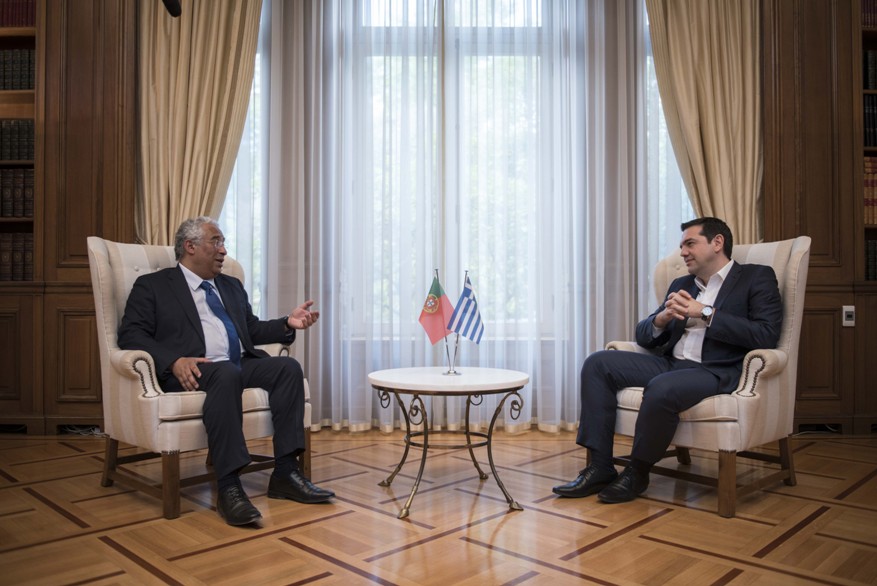 Athens, April 12, 2016/Independent Balkan News Agency
By Spiros Sideris
Joint declaration that will strengthen cooperation between Greece and Portugal signed Alexis Tsipras and his Portuguese counterpart, Antonio Costa.
The governments of Greece and Portugal identified the need for Europe to change course and in this context they signed a joint declaration entitled "Against Austerity for a democratic and progressive Europe, with social justice and cohesion".
In the declaration it is stressed that it is the first time that there is a common declaration of the countries of the South for the strengthening of cooperation in all areas, cooperation within the EU and multilateral forum on the challenges at European, regional and global level, the economic crisis, security crisis and the migration problem.
For the refugees, in particular, both governments stressed the need for a cooperation on European policy on the basis of solidarity, stand against unilateralism and closed borders and in favour of the review of the Dublin agreement, so that the burden be shared fairly.
Economic and monetary policy in Europe
The two governments are committed to a democratic and social Europe and indicate that the Eurozone crisis is a result of the asymmetrical process of European integration and the absence of effective tools to tackle it.
Also, the two governments agree that the policy based solely on austerity is wrong and ineffective and that austerity inhibits economic growth and divides society, causing unemployment, poverty, social exclusion and economic stagnation.
The path from now on should be closer policy fiscal and social integration rather than fragmentation, is stated in the Declaration and is noted the need for a new European social contract and not a return to policies that foster nationalism, xenophobia, extremism and populism.
What's more, they stand in favour of economic stability in an integrated financial market, through a European deposits guarantee system and emphasise the need for 'common rules and common goals while respecting the democratic right of elected governments to tailor their policy towards these goals".
Peace and stability in the region
The two governments agree on the need to cooperate more closely, for the EU to strengthen its diplomatic efforts for peace and stability in the region (the Mediterranean, Middle East, Black Sea) and also support a coherent, complete and targeted policy to tackle terrorism.
Also, they support efforts for peace in Syria and Libya and support the two-state solution on the Palestinian issue.
On Cyprus, the Declaration states that both governments support the peace process for a just and lasting solution to the Cyprus issue on the basis of International Law, the decisions of the UN and the status of Cyprus as an EU member state, and stress that resolving the Cyprus issue will be a factor of stability in the wider region of the Mediterranean.