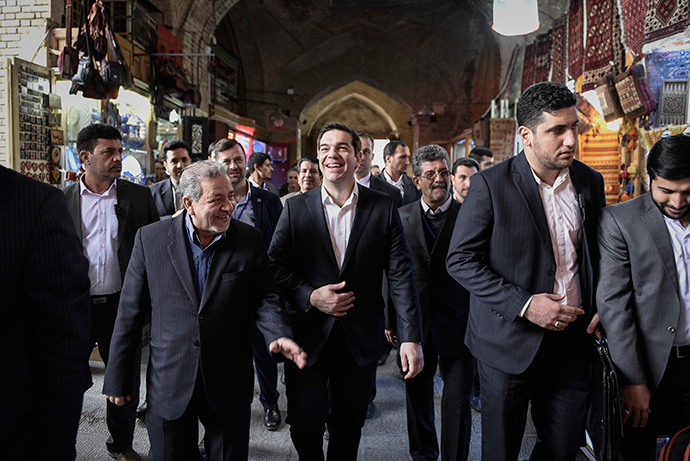 Tehran, February 8, 2016/Independent Balkan News Agency
By Spiros Sideris
The framework of the strategy, as he described it, cooperation with Iran presented on Sunday the Prime Minister Alexis Tsipras, during his visit to the technological park of Tehran, noting that the two countries can cooperate in technology and innovation, energy, trade, culture and shipping.
Welcoming the Prime Minister, the head of the technology park Mahdi Safarinia called Mr Tsipras the most independent leader in Europe.
In response, the Prime Minister said that Greece has an independent foreign policy and despite the crisis, spreads its wings working with key countries of the region, such as Iran.
Mr Safarinia stressed that the park has members in more than 30 high-tech enterprises, with more than 3,000 scientists being involved, and invited Greek companies active in research and technology to participate in major exhibition to be held in Iran in May.
The Prime Minister stressed that Greece has significant human resources in technologies and said that the two countries are united by important the important links of two strong cultures, but the future can also unite us in collaborations in a variety of areas, such as new technologies.
Mr Tsipras said it is the choice of the Greek government to develop strategic relations with Iran and assured the Iranians that Greece will become a bridge that will unite Iran in the sectors of energy, economy and trade with the European Union.
As part of his visit to Iran, the Prime Minister toured Sunday the architectural monuments of Isfahan, Iran's cultural capital.
Today, the Prime Minister will meet with supreme leader Ayatollah Khomeini and President Hassan Rouhani.
The interest of the meeting focuses on the energy, construction, water management, tourism, culture, finance and agri-food sector, as well as the pharmaceutical industry.
Talks will also include the cooperation for the stabilisation and promotion of peace in the region.