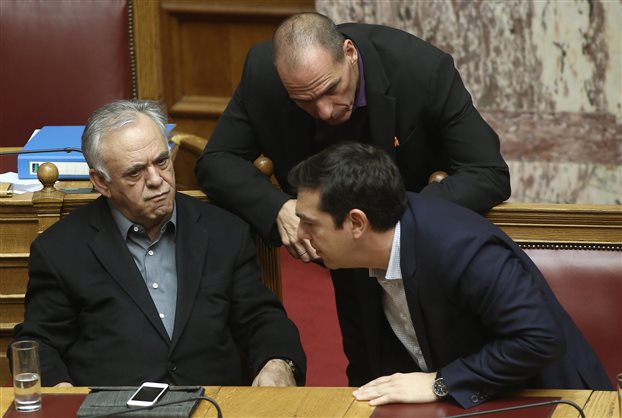 Athens, June 3, 2015/ Independent Balkan News Agency
By Zacharias Petrou
Greece has sent a "comprehensive and realistic proposal" to its creditors that it hopes will seal a deal over its bailout, Prime Minister Alexis Tsipras revealed on Tuesday.
Tsipras said the plan included "concessions that will be difficult" and he is due to meet European Commission President Jean-Claude Juncker in Brussels on Wednesday to discuss the Greek proposals.
"We are not waiting for them to submit a proposal, Greece is submitting a plan – it is now clear that the decision on whether they want to adjust to realism… the decision rests with the political leadership of Europe," the Greek premier said.
According to Greek government sources, the Greek proposal was sent to institutions on Monday because otherwise talks would have focused on proposals the creditors are expected to make this week and Athens would appear uninvolved.
The creditors were expected to submit their proposal to Greece on Wednesday, following a meeting between German Chancellor Angela Merkel, French President Francois Hollande and European Commission President Jean-Claude Junker in Berlin which took place on Monday and was also attended by European Central Bank President Mario Draghi and International Monetary Fund Managing Director Christine Lagarde.
Brussels sources said the Greek proposal was "vague" and not as detailed as the one being drawn up by creditors. According to Reuters, sources close to the talks said the latest proposal did not contain major new concessions on issues holding up a deal, such as pension and labor issues.
Many papers are being exchanged between Athens and its creditors, said European Commission spokeswoman Annika Breidthardt.
Taking the daily media briefing in Brussels, the spokeswoman said "the fact that documents are exchanged is a good sign". However, Breidthardt also cautioned against being over-optimistic, warning that the two sides "are not there yet".
The Greek proposal contains the following provisions: Primary surplus should be 0.8% of GDP in 2015 and 1.5% in 2016; three VAT rates should apply: 6%, 11% and 23%; early pensions should be re-examined without putting acquired rights at risk; no zero deficit clause should be placed on supplementary pensions; there is no question of privatizing the "small" public power corporation; the government doesn't back down on labor relations.
Eurogroup chief Jeroen Dijsselbloem reacted by stating that "there is progress in Greek talks but not sufficient. It's not right to think that we can meet half way". He added that it isn't "theoretically possible to reach a deal with Greece this week". Dijsselbloem also urged the Greek government to be honest with voters about the state of the country's finances.
Failure to reach agreement this month could trigger a Greek default and lead to the imposition of capital controls and a potential exit from the euro zone.
Deputy Prime Minister Yannis Dragasakis stated Tuesday that the government is not prepared to submit to blackmail. The statement is seen as a reference to suggestions that Greece's creditors are preparing to put an ultimatum to Greece in the form of a "take it or leave it" final offer. The Greek media note that many within Syriza are now refloating the idea of an early election.
Dragasakis also said that a prospective deal with creditors must include provisions for debt relief. It should also be a long-term agreement which ensures normal liquidity for the economy and the end of austerity.