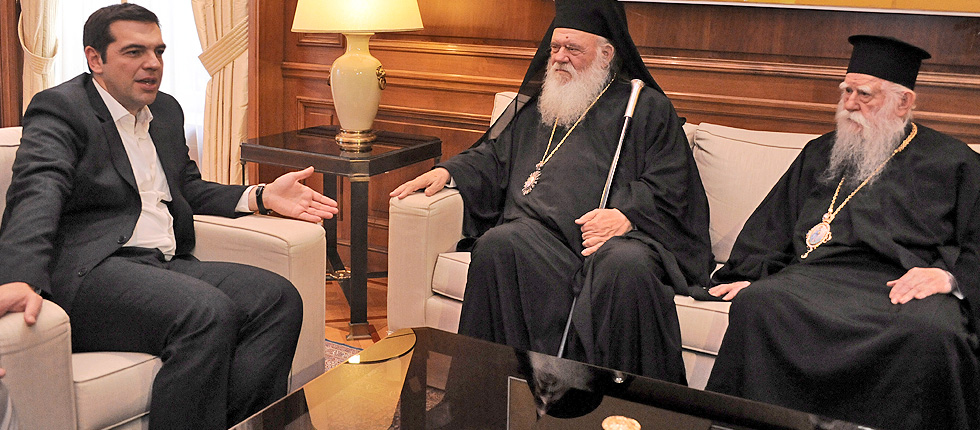 Athens, November 5, 2015/Independent Balkan News Agency
By Spiros Sideris
With Archbishop Hieronymus and members of the Holy Synod, met Wednesday at the Maximos Mansion, the Prime Minister Alexis Tsipras, in return for Prime Minister's visit to the Archdiocese.
Welcoming the Archbishop, Tsipras spoke of helping people in need, so that no one will be left alone in this crisis and these difficulties, adding that this is very important and that "this is the common starting point for our actions".
The meeting confirmed the cooperation climate that exists between the State and the Church, to address urgent social problems such as the refugee crisis and extreme poverty.
It was agreed to reconstitute the Joint Commission State-Church chaired by Education Minister Nikos Filis, with first topic the use of church property.
The prime minister said that in view of the Constitutional Review, a joint legal committee will be set up, which will discuss and record the issues associated with the discrete roles of the State and the Church.
The Church of Greece paid EUR 2.5 mln in taxes.
The Income Report – Expenses of management year 2014, approved by the Holy Synod of Bishops (HSB), chaired by Archbishop Hieronymus. The recorded revenue were 8,792,293.69 euros and the costs: 8,001,283.93 euros, with the difference standing at 791,009.76 euros.
In particular, it is noted that the payment of taxes spent 2,476,428.15 euros, of which payment of the Single Real Estate Property Tax (ENFIA) 1,722,288.30 (until February 2014), tax on lease 740,661.92, extraordinary special fee for structured surfaces 13477.93 euro and CAB 3414.47 euros.
Additionally, members of the HSB were informed by Archbishop Hieronymus on the cross-religious Conference held in October in Athens on "Religious and Cultural Pluralism and Peaceful Coexistence in the Middle East". The conference was organized by the Greek government on the initiative of the Foreign Ministry.