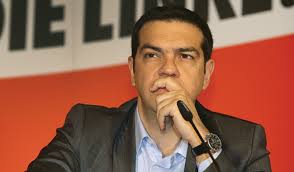 By Spiros Sideris – Athens
The adoption of a code of conduct with a set of rules that will apply to those who want to be candidates MPs with SYRIZA suggested Alexis Tsipras at a meeting of Secretaries of the Prefectural Committees and the Organizational Bureau of the party.
Considering that the country is "before rapid political developments", Tsipras, speaking on Saturday night at the meeting of Secretaries, restored emphatically the issue of setting up ballots and political alliances, underlining that "without becoming a "washing machine", we will establish a reliable basis, with programmatic terms, honestly and openly, not under the table, a new majority bloc of political and social forces".
To avoid conflicts and disagreements, Tsipras noted to party officials that "we must not allow in the following period, our organizations to become a field of confrontation of interest groups in the name of such and such a candidates" and added that "a delicate balance is needed here. We need to be open to social forces to creditworthy individuals".
It is not possible, said the president of SYRIZA, to believe that next to us belong only those who were in the SYRIZA of 4%, but must make a broad front and get the 40% or 45%. However, he stated, "we don't want to include in our ballots those whom we may find tomorrow in front of us. Either because they participated in the party of the previous period, either because it is clear to the people that they go wherever the wind blows".
The solution, according to Tsipras, is to create institutions and self control mechanisms, "so as not to have to face these issues", and noted that it is necessary to build a new relationship of trust. I ask you, said the president of SYRIZA, to study the codes of conduct for MPs, which were drafted by the Podemos and create conditions and rules for all those who will want to either be candidates on our ballots, or be integrated into the state apparatus if we come to power. This will create rules and conditions of a new confidence and credibility, because we have nothing to do with yesterday, the old and corrupt.
At the same time, Tsipras reminded that "those of you who want to be or should be MP candidates to give your seat to someone else who should take this critical position, as there is incompatibility". And simultaneously, he concluded, I think that the criteria for the formation of the ballots should be criteria based on principles and mainly honesty, not sectarian criteria. Of course this should be done through a collective processes.
Referring to political developments Tsipras said that the Troika has two objectives:
First, they seek to close as many issues, so that there is room for "concessions" in a next phase.
Second, they are preparing the way of negotiating with the next government, seeking to push and create consensus conditions for the policy.
We declare categorically, says the president of SYRIZA, "that we will not accept any agreement that will be taken in this House with this government that will be binding for the next government", and accused the government that pretends to negotiate.
The Prime Minister, Tsipras argued, wants to involve the negotiation to the package of political developments in Greece in connection with the presidential election. He also said that the only think that preoccupies Venizelos and Samara is their own personal political future and their political survival. Therefore, we have to realise that they will not fall on their own, but will do everything possible to stay for another year and a half.