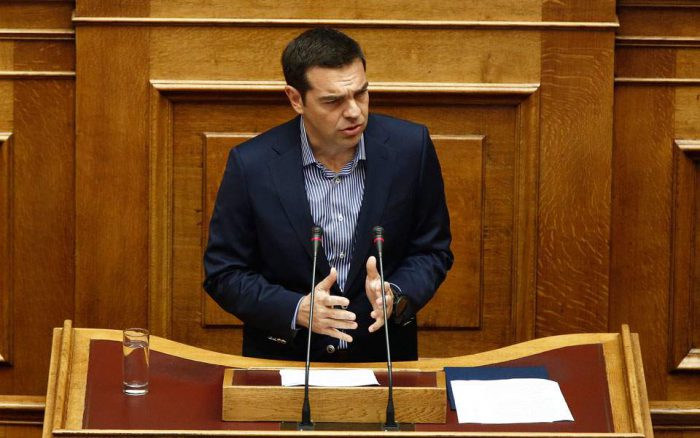 Greek Prime Minister, Alexis Tsipras, delivered his party's opening address at a SYRIZA parliamentary committee meeting on Wednesday.
Addressing SYRIZA MPs, the Prime Minister focused on the economic recovery being realised, while also outlining his goals at social, financial and political level for the upcoming period.
Tsipras used a large part of his speech to attack the main opposition party, New Democracy, over the Paradise Papers revelations relating to corruption which have come to light in recent days.
Specifically, the premier said there was a local elite participating in a criminal party taking place in offshore tax havens, calling on the main opposition party leader to take a clear stance on such individuals. "After tax heaven, comes political hell", the PM quipped.
Analysts point out that Tsipras hinted at the inclusion of the name of ND leader Kyriacos Mitsotakis' wife, Mareva, in the Paradise Papers.
Mareva Mitsotakis responded to a story in Ethnos newspaper, according to which she owns an offshore company named Eternia Capital Management, which is listed in the Paradise Papers.
Ms. Mitsotakis says in a statement published by Ethnos that she had disclosed the fact that she owns an offshore company and this has been publicly known for a long time. She added, however, that she has no involvement in the day to day management of the firm, nor does she sit on its board or have voting rights. It is also noted that the company was established in 2010 and has absolutely no activity since 2012.

  
Turning to the economy, Tsipras said the government is fighting to restore stability and end the country's supervision by international creditors.
"The third program review will be concluded without additional measures," Tsipas noted, adding that he always remains positive about the course of the economy.
All economic indicators indicate that the prospect of recovery is now firmly established. Economic confidence has been strengthened, as have exports, investments, competitiveness and economic activity, Tsipras pointed out.
Moreover, he said that the government will proceed with the distribution of a so called social dividend to support the poorest and most vulnerable social groups. He revealed that the amount to be handed out will be higher than the bonus distributed last year…/IBNA