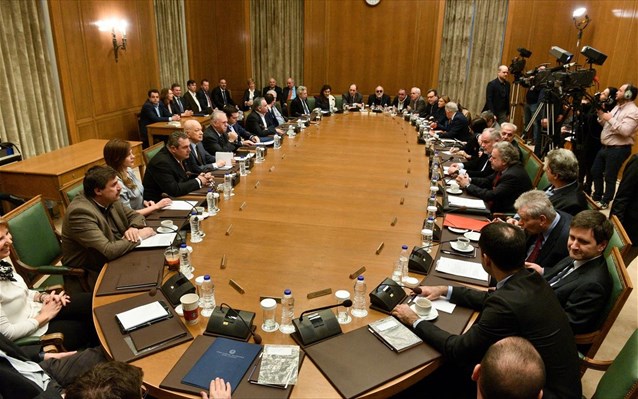 Prime Minister Alexis Tsipras chaired a tense cabinet meeting on Tuesday, during which he called for unity within the coalition and warned colleagues that he is not afraid of political developments.
The session was the first public meeting between Tsipras and junior coalition partner Panos Kammenos after the latter's controversial proposal to replace the name-change deal agreed with neighboring FYROM with a wider security arrangement for the Balkan region.
According to local reports, there was tension in the room when Kammenos argued with Foreign Minister Nikos Kotzias over the deal. Reports suggest that Kotzias told Defense Minister Kammenos not to attempt to shape the country's foreign policy.
Speaking to his cabinet ministers, the Prime Minister is said to have demanded that they commit not to back a prospective vote of no confidence by the main opposition New Democracy over the name agreement with Skopje.
According to sources, Tsipras said he acknowledges the difference of opinion between SYRIZA and Independent Greeks, but urged ministers not to jeopardize the coalition's effort to make an economic recovery sustainable and a success of the recent conclusion of the country's latest bailout program.
On his part, Defense Minister Panos Kammenos said he maintains his view over the name of FYROM, however, he reportedly clarified that he will not support efforts to overthrow the government.
According to the Athens News Agency, Tourism Minister Elena Kountoura and Deputy Minister for Diaspora Greeks Terence Quick, both Independent Greeks MPs, also backed the coalition during the meeting.
The cabinet meeting also focused on the economy. Specifically, the draft 2019 budget was discussed ahead of the expected arrival of troika officials in Athens next week for talks with the government.
Negotiations are ongoing over the possibility of avoiding pension cuts and which "offsetting measures" Athens will implement next year. The two sides have yet to agree on the estimated primary surplus that the economy will generate in 2018 and 2019./IBNA