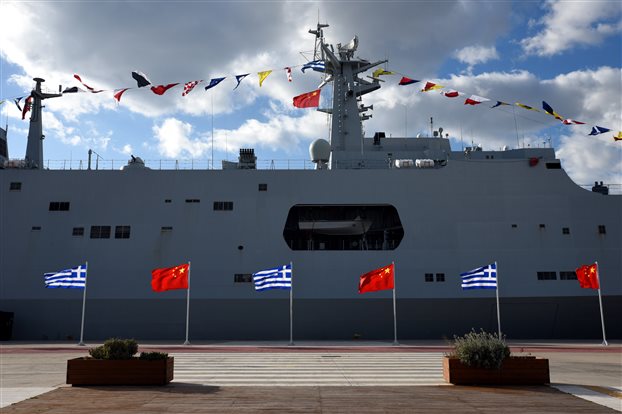 Athens, February 20, 2015/ Independent Balkan News Agency
By Spiros Sideris
The intention of the Greek government to further develop relations with China stated the Greek Prime Minister, Alexis Tsipras, talking to the reception at the port of Piraeus, of the 18th fleet of China, which is engaged in operations against piracy.
"The government seeks to enhance economic cooperation with China at many levels", claimed Prime Minister Alexis Tsipras and stressed that Greece wants to play an important role in the development of maritime and inland "Silk Road" and to be the main gateway of Chinese products in Europe.
Greek Prime Minister expressed the view that there is room for the further development of relations between the two countries, especially in the areas of transport and railway links, adding that the government attaches great importance to the investment of Cosco in the Piraeus port and that he seeks new partnerships with Chinese groups.
The goal, he said, is to make Piraeus a leading transport hub and trade not only in Europe but worldwide.
At the same time, he gave special attention to the promotion of initiatives to strengthen cooperation in tourism and culture. "Our relations cannot develop in full if the cultural ties are not strengthened", he said
Finally, Tsipras underlined his admiration for the history, culture and struggles of the Chinese people, referring to the struggle of the Chinese people for independence against colonialism, "such as today the Greek people are struggling to consolidate popular sovereignty at our home", he said, adding that "we are two countries with ancient history, which may bring their paths together to the benefit of our peoples".
In turn, the Chinese Admiral Zhang Chuan Shu, thanked the President of the Republic Karolos Papoulias and Prime Minister Alexis Tsipras for the reception, speaking of a highly "successful visit of the Chinese naval fleet in Greece", while he paid particular attention to the link between the two countries, saying that "the sea is what has united the two countries".
"The Greeks are good friends in the time of need and we are partners for the joint development of the two countries", Admiral Zhang Chuan Shu said and added: "the vessel in which we both are on will not change direction, that which we have in common will multiply, we are together in this".