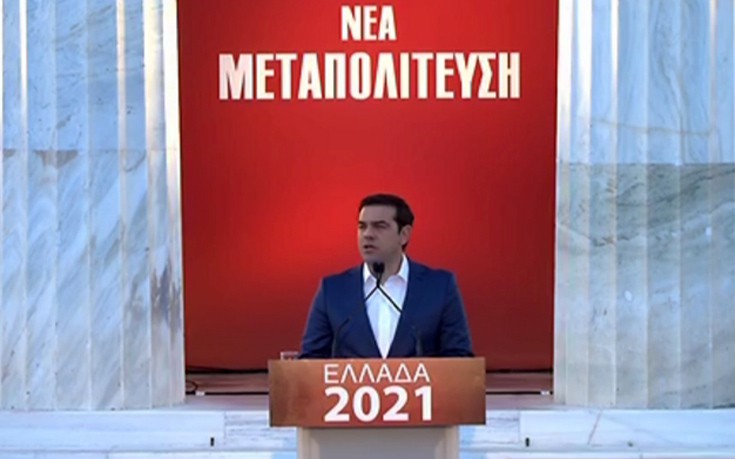 Athens, July 26, 2016/Independent Balkan News Agency
By Zacharias Petrou
Greek Prime Minister Alexis Tsipras announced the beginning of a wide and long debate on reviewing the Greek constitution with a speech on Monday evening in Athens. The debate is expected to last approximately twelve months will all political parties and stakeholders weighing in with their proposals and views.
Alexis Tsipras presented the government's proposals of the issues that should be examined during the review of the country's constitution and did not rule putting several crucial issues to advisory referenda.
Speaking in a special event held in the garden of the Greek House of Parliament, the PM called for a wide, open and constructive dialogue for a constitution that will signify the beginning of a new era and the "new Greek of 2021" when the nation will celebrate 200 years of independence.
Alexis Tsipras urged Greek citizens to take center stage in the debate on constitutional reform and set the agenda. "We desire a procedure that will engage, organize and mobilize citizens. A procedure where citizens are in control and not one confined to the House of Parliament" the premier said.
According to the government's plan, a committee will be set up in September to organize the debate on "a nationwide scale" and the country's regional and municipal authorities will be required to engage citizens in the process. In the spring of 2017 the organizing committee will take stock of the results of the national debate and deliver a report to political parties which will in turn begin debating all the relevant issues in parliament.
Among other ideas, Tsipras put forth a proposal for the election of the president directly by citizens and holding referenda by "popular initiative", as well as enshrining simple proportional representation in the constitution.
According to the government's proposal, Parliament should only be able to elect a president of the Hellenic Republic if a candidate had the support of at least two thirds of MPs. If this was not possible in two successive elections, the process should then be turned over to the electorate, with a general vote between the two top-ranking candidates of the last Parliamentary election. Tsipras also suggested a "reasonable" increase in the president's powers, enhancing the presidency's regulatory role.
The prime minister also proposed the abolition of immunity from prosecution for MPs and the establishment of a special judicial body to pass judgement on bills already legislated.
He also called for changes to limit the maximum term of MPs to not more than two successive Parliaments or eight consecutive years, while the post of prime minister should be confined to an elected official or serving MP, with the exception of caretaker premiers.
Tsipras went on to propose that referenda should be made mandatory for any treaty transferring sovereign powers away from the state.