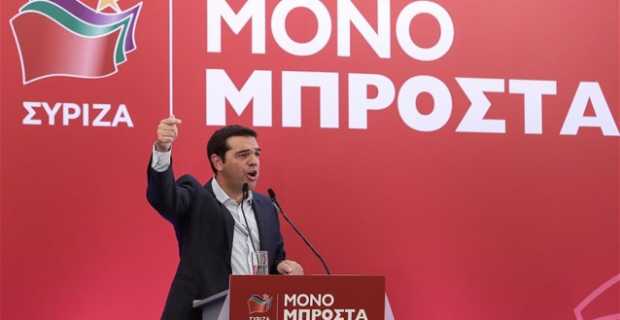 Athens, August 31, 2015/ Independent Balkan News Agency
By Spiros Sideris
"A circle closes and opens the circle of battle", said the president of SYRIZA, Alexis Tsipras, addressing a speech at the closing of the two-day proceedings of the Panhellenic Conference of the party, to emphasise that "we are here standing, to continue with the same vigor to give the battle to not allow the old status-quo that has plunged the country to return".
He stressed that "we have a duty to protect the country from this", adding that now the old political system today is camouflaged, wearing the "fleece" of the quiet force of the middle space.
He stressed, however, that it will return with the worse conditions for the people and gave the slogan: "let us 'plow' Greece, not to allow the past to return".
Their struggle and distress, said the president of SYRIZA, is for SYRIZA to not be made possible to form a government in the next House, without the crutches of the forces of the system. "They try to lie to the citizens with "everyone is the same", but "we are not all the same", he said.
His reply tp Meimarakis
At the invitation of the President of the ND for a debate, he said: "I heard Mr. Meimarakis, with inimitable style asking a debate with me", he Tsipras ssid, to highlight: "Is he listening to what he is saying? And one and two and three and four and how many he wants and whenever he wants". Why, he said, "we, and I personally, never hid. I have great confidence in the standard of the people".
He noted that the people will judge positions and programs, "but will judge and compare above all the purity, honesty and sincerity of the parties, who is telling him what's right, who's telling the truth and who is trying to deceive him".