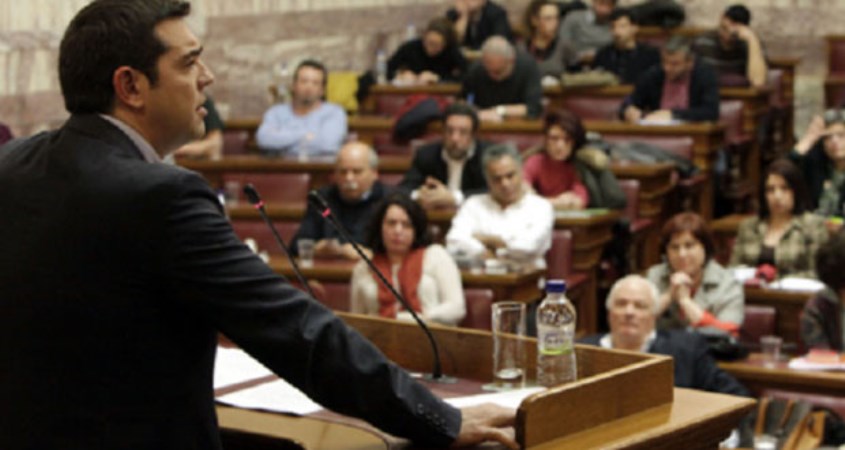 Athens, April 5, 2016/ Independent Balkan News Agency
By Zacharias Petrou
In his speech to the Syriza parliamentary group on Monday, Greek Prime Minister Alexis Tsipras strongly attacked the IMF using the word "absurd" many times to refer to the Fund.
Tsipras stressed the need for negotiations between Greece and its international creditors to be concluded successfully without irrational demands being tabled at the last minute. He added that he believes the review will ultimately be wrapped up by April 22 and that he was assured of this in talks he held with EU leaders over the telephone following a report over the weekend by WikiLeaks which said IMF was looking for a crisis "event" to push Greece into concluding the talks.
The PM also said that the IMF has made many "absurd mistakes" in the past in the Greek program and its estimates were off the mark on many occassions. He added that the IMF is inexplicably time-wasting in talks but "we didn't how far some absurd people were prepared to lead Europe […] We will not allow Greece to be the victim of the differences between Europe and the Fund".
Tsipras also accused the IMF of making mistakes that have made the Greek people poorer and lead the country to economic catastrophe.
The Prime Minister also said that the only party that agrees with the IMF's tough demands is main opposition New Democracy which has a deep desire to return to power.
The premier told MPs "we must conclude the review under the terms agreed last July" adding that the country will then return to growth with society standing on its feet. "This is our aim and then we will be able to really celebrate the end of the MoU's for the country" Tsipras charged.
The speech to the Syriza parliamentary group was delivered after talks between Finance Minister Euclid Tsakalotos and the high-ranking officials of international creditors had restarted earlier on Monday in Athens.
According to the Greek Finance Minister, there was no discussion regarding the Wikileaks transcript released at the weekend. Tsakalotos said that it was "an introductory talk" that set a schedule for the first week of negotiations until next Monday and a road map until the Eurogroup meeting on April 22.