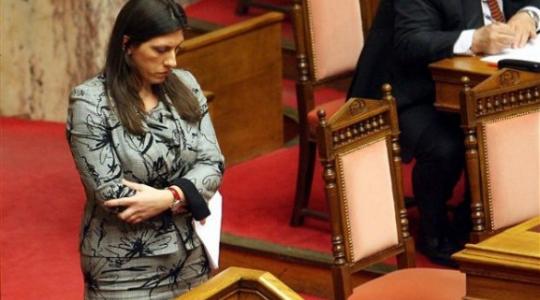 Athens, August 13, 2015/ Independent Balkan News Agency
By Spiros Sideris
The actions of the President of the House of Zoe Konstantopoulou that delay the adoption of the agreement with the Institutions has provoked the wrath of the Maximos Mansion, making it clear that the two sides are in open conflict.
The refusal of Konstantopoulou to appoint the convening of the committees on Wednesday and Thursday in the plenary, as Alexis Tsipras requested in a letter, takes the confrontation to the extremes, with all eventualities open.
Despite the efforts of the representatives of SYRIZA in the Conference of Presidents to make the organ convene early Wednesday, it will be held at 21.30 in order to be decided the resumption of parliamentary work, which had been interrupted due to the summer holidays.
Therefore, the bill will come to be tabled in the relevant committee on Thursday and following that it will be brought to the plenary of the House, which means that the midnight votes which took place during the last multi-bills will be the case now as well, something that was condemned by the prime minister himself .
Ministers and top officials of SYRIZA have directed their arrows against Konstantopoulou and its decisions, which affect the government.
Interior Minister Nikos Voutsis, speaking on the morning show of Mega Television stated that "limiting this discussion does not help anyone or anything". "It does not honors us, when we are talking about such serious issues, to be consumed in this institutional formalism that goes to the limit of pretext", he added, "It does not honor us that the prime minister is forced to ask, to set dates and times, to have a negotiation for the obvious".
Kostas Chrysogonos speaking to SKAI television asked from Konstantopoulou to reconsider her position and said: "this situation is beyond me".
Citizens' movement against the Speaker of the House
The movement against Zoe Konstantopoulou, which has been launched on Facebook, now takes huge proportions.
The group "Motion of censure on the Speaker" on Facebook already exceeds 30,000 and with a letter to MPs its members seek the ouster of Zoe Konstantopoulou.
They point out that the President of the House has shown that "it does not have the necessary qualifications for the position", ie to be above parties and represent all MPs, dedicated to ensuring the functioning of Parliament. They also blame Konstantopoulou that she "grossly violates the Constitution by exercising personal politics". Finally, they invite MPs to immediately submit a censure motion against the House Speaker.