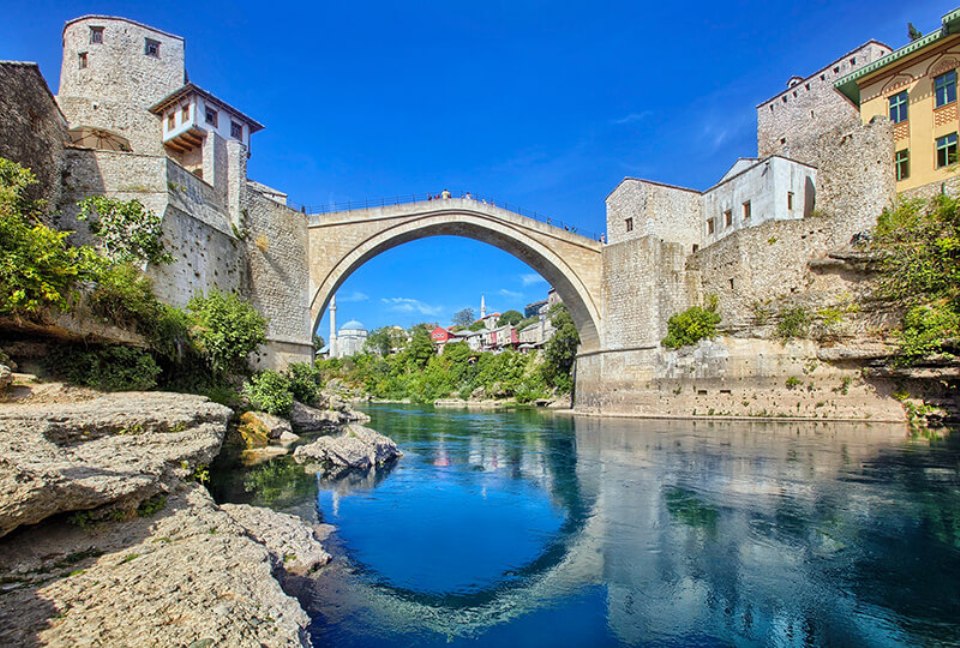 Greek Prime Minister Alexis Tsipras will be in Mostar, Bosnia and Herzegovina, on Monday where he will be honored by Denis Zvizdic, President of the Council of Ministers, together with Prime Minister of fYROMacedonia, Zoran Zaev, and Montenegrin Prime Minister Duško Markovic. The event is organized by the Center for Peace and Multi-ethnic Cooperation.
The event in Mostar will take place at the "Stari Most" (Old Bridge), on the bridge that was destroyed on 9 November 1993 during the Bosnian War after 427 years of existence. After the end of the Yugoslav civil war, a temporary hanging bridge was originally built in place of the damaged Stari Most. The World Bank, UNESCO, the Aga Han Foundation and the World Monument Fund have formed an alliance to oversee the rebuilding of Stari Most and the old center of Mostar. Where it was possible, the original boulders of the 1566 bridge were used, at the places where they were available and could be used. The official reopening of the bridge took place on July 23, 2004, with representatives from 60 countries.
The Stari Most is the first monument of Bosnia-Herzegovina on the UNESCO list. UNESCO described the bridge as a "Symbol of reconciliation and international co-operation… a symbol of the coexistence of different religions, cultures and ethnicities".
Every year on the day of the reopening of Stari Most, the Center for Peace and Multicultural Cooperation holds symbolic events, honoring politicians who have contributed to peace and co-operation.
The four Prime Ministers will sign the Mostar Peace Charter, which was signed by the Prime Minister of fYROMacedonia, Zoran Zaev, last year and two years ago by the then Prime Minister of Montenegro Milo Đukanović, in the old town of Mostar, while there will be a symbolic walk on Stari Most. The "Mostar Peace Connection" and the "Mimar Mira" (Peacebuilding) awards will also be awarded"./IBNA