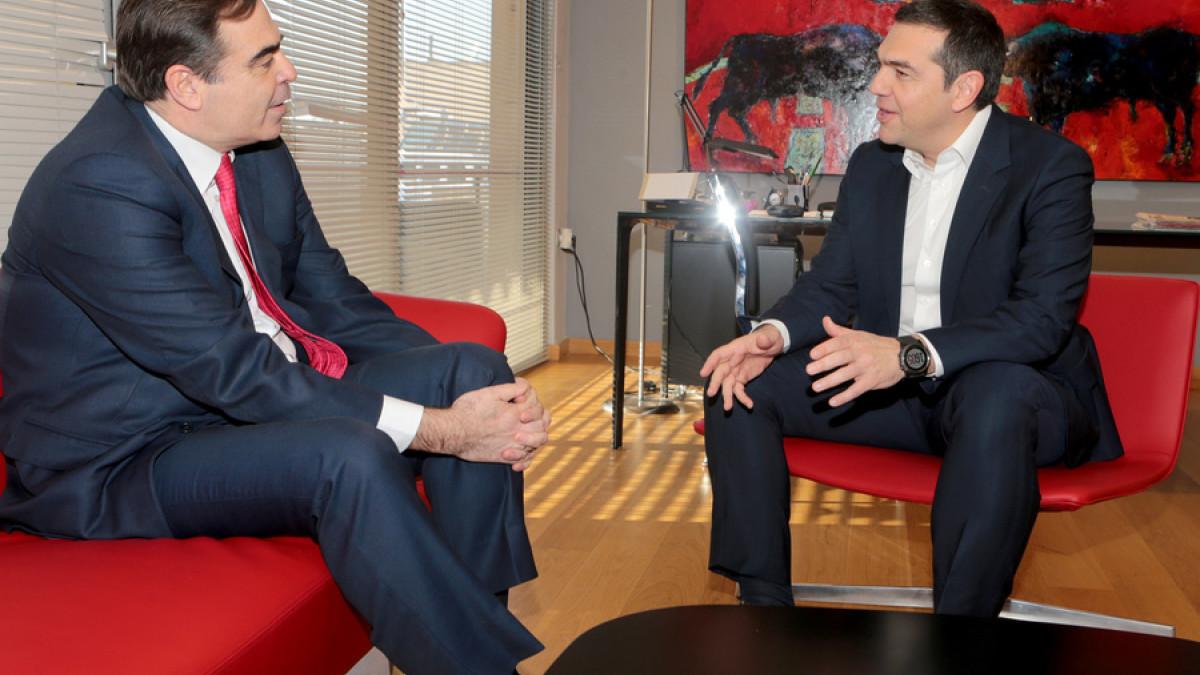 European Commission Vice President Margaritis Schinas stopped by Alexis Tsipras' office this afternoon on the occasion of his visit to Athens. Tsipras and Schinas discussed European and regional developments, focusing on the refugee-migration crisis.
The main opposition called on the government to not proceed with the establishment of "huge closed-detention centers" on the islands, stressing that they were in breach of European and international law. Meanwhile, it called for the process of depressurizing the islands to be stepped up, alongside the speeding up of the asylum procedures and the lifting of the "unacceptable" restriction on the asylum seekers' access to healthcare, education and work.
As the islands of the North and East Aegean that have borne the overwhelming burden of refugee and migratory flows are boiling up with fierce reactions and mass mobilizations, the Government is trying to find a solution to a seemingly impenetrable problem.
Yesterday, in the absence of the Prime Minister, a meeting took place at Maximos Mansion between the Minister of Immigration and Asylum N. Mitarakis and the regional governor and mayors of the Northern Aegean islands, following the mobilizations on the refugee issue recorded in Chios, Samos and Lesvos.
"Our priority must remain to clear the islands. Returning them to Turkey should be our priority. Priority should be given to ameliorating the functioning of the asylum process and to strengthening the medical units of the islands in order to provide better support to the local communities", said Notis Mitarakis after the meeting.
SYRIZA on the other hand accuses New Democracy that back in its days as the main opposition it cultivated through its campaign intolerance and deceived the people with lies, that it abolished the Ministry of Migration Policy downplaying the issue, and that it failed to implement any of the three different depressurization plans it had announced.
"Today, amidst reactions from local communities and while refugees and immigrants are living in miserable conditions that are a shame for our country, they reach to the point where the Minister of State himself admits that "so far what has happened was cases of fragmented political "bandages" to battle the existing flows", the SYRIZA representative commented.
Meanwhile, the main opposition is targeting the statements made by government officials. "The Minister in-charge said today that each of their measures would aim at limiting the flows, in an effort to defuse the far-right reactions they themselves have watered, which makes one wonder what kind of measures he has in mind", SYRIZA spokesman Al. Haritsis argued, commenting on a statement issued by the Minister of Immigration; but also by the Minister of Development, who stated that living conditions in the new closed detention centers "would operate as a deterrent for refugees". /ibna